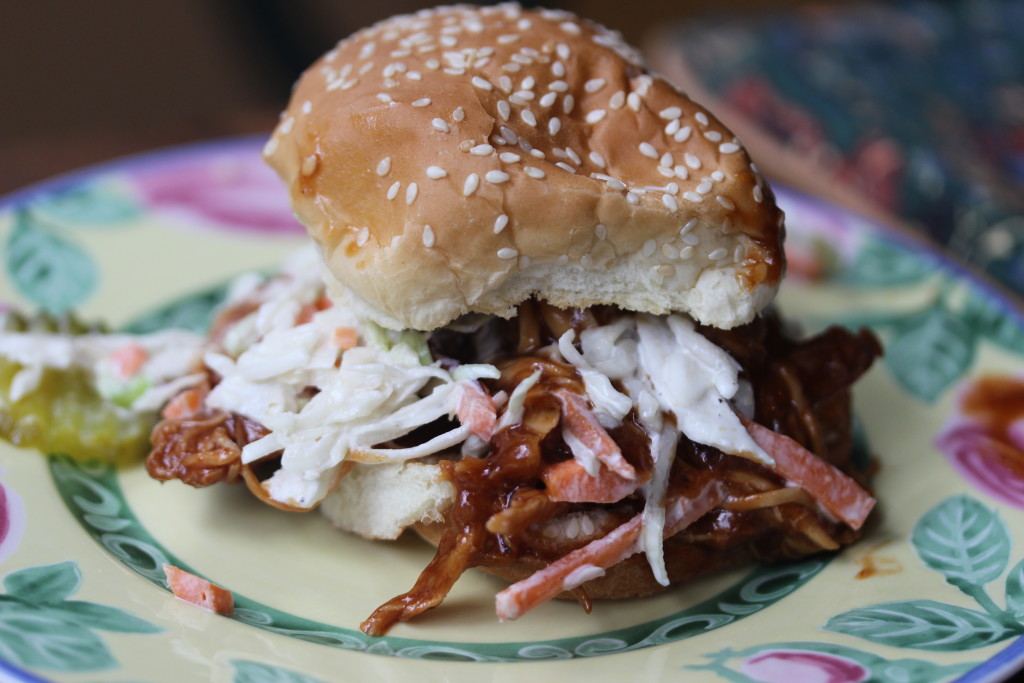 To call this a "recipe" is kind of a joke.  Chicken + BBQ sauce + Slow cooker = Easiest dinner ever.  The chicken is so delicious, it's hard to believe you did nothing.  I use the BBQ chicken for BBQ chicken sandwiches and add cole slaw & pickles.  You will have leftovers which can be used in quesadillas, BBQ chicken pizza or Salad with BBQ chicken (throw in some black beans and corn with your standard lettuce mix and you are good to go!

Crockpot BBQ Chicken
Prep time:
Cook time:
Total time:
Ingredients
2 Pounds Boneless, skinless chicken breast
2 Cups Bourbon BBQ Sauce (can substitute store bought)
Instructions
Season chicken all over with Lawry's seasoning or salt & pepper.
Add chicken to crockpot.
Pour the BBQ sauce over chicken and mix well so that there is some BBQ sauce under and on top of the chicken.
Cook on low for 6 hours or high for 2.5 to 3 hours until chicken is cooked through, turning chicken once every 30-60 minutes.
Remove chicken to a cutting board and shred. Return chicken to crockpot with the BBQ sauce and mix well until chicken is coated.
Serve on toasted bun with cole slaw and pickles if desired.