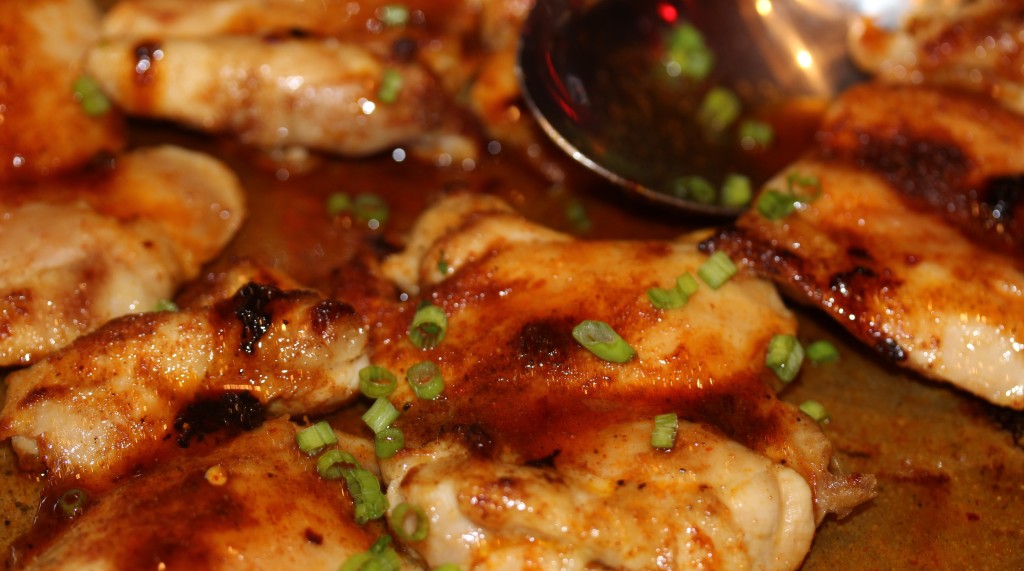 Here is another recipe find from Pinterest, this one comes from Nutmeg Nanny.  It was absolutely delicious and family certified.  In case you don't know what family certified means, it's when everyone gives the recipe a thumbs up and it can go into regular dinner rotation.  This recipe is for chicken thighs, but you could easily do it with chicken breasts if you prefer.
I served this on top of a big ole' pile of Asian Slaw with Tahini Dressing.  Yum, yum, yum!!!

Honey Glazed Chicken
Prep time:
Cook time:
Total time:
Ingredients
1 package boneless skinless chicken thighs (you should get about 8 thighs per package)
2 teaspoons smoked paprika (regular paprika works well too but smoked brings more flavor)
2 teaspoons garlic powder
1 teaspoon kosher salt
1 teaspoon fresh cracked pepper
1 teaspoon red pepper flakes (use less if you don't like heat)
1 teaspoon chili powder
½ cup honey
2 tablespoons apple cider vinegar
Instructions
Heat the broiler on high.
In a bowl mix the paprika thru chili powder.
In another bowl, mix the honey and cider vinegar. Season with salt & pepper.
Rub the chicken all over with the spice mixture.
Put the chicken on a foil lined cookie sheet and cook under the broiler for 4 minutes.
Brush the chicken with the honey mixture and flip over. Brush the other side with the honey mixture and place under the broiler for 5 more minutes.
Remove chicken and check to see if it is done. If it needs another minute or 2, put it back under the broiler until it is done.
Before serving, brush the chicken with the honey mixture again.