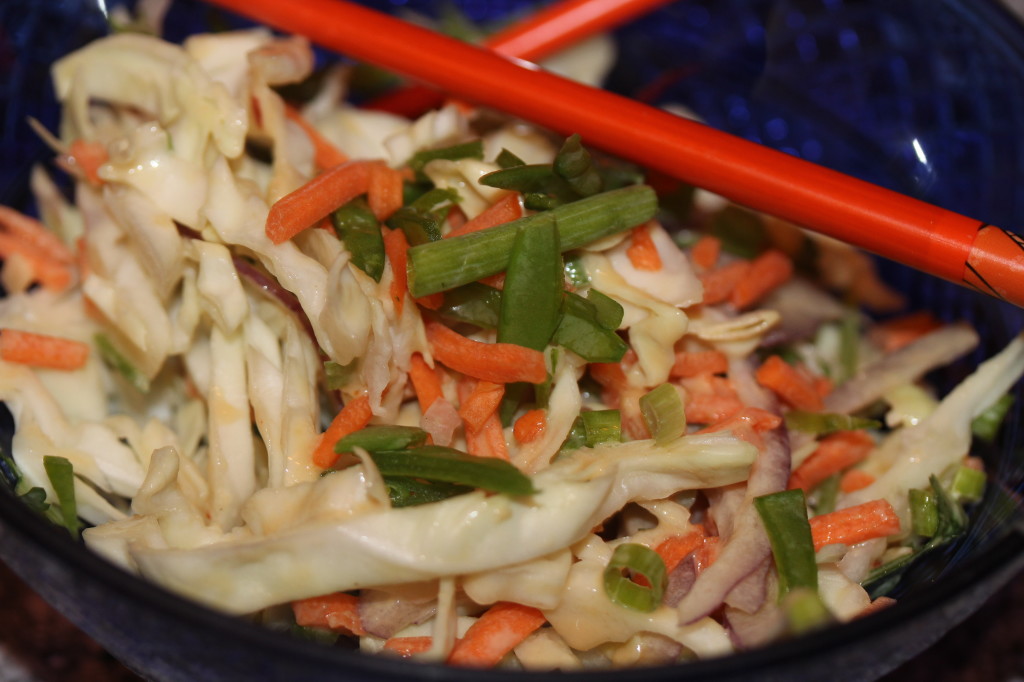 You may have never heard of Tahini.  It is sesame paste.  Actually think sesame butter, like peanut butter. It has a delicious nutty flavor and this dressing is amazing on any kind of salad, a slaw, green salad, sesame noodles, you name it.  I am able to buy it at my local Market Basket grocery store.  The dressing will stay good in the fridge for up to 2 weeks.
I served Honey glazed chicken on top of a big pile of this Asian slaw, a delicious, healthy dinner!

Asian Slaw with Tahini Dressing
Ingredients
3 tablespoons lemon juice
2 tablespoons tahini
1 tablespoon sugar
2 teaspoons reduced-sodium soy sauce
1 teaspoon minced peeled ginger
½ teaspoon minced garlic
Pinch crushed red-pepper flakes
2 Cups finely sliced cabbage
1 Cup shredded carrots
½ small red onion sliced thin
4 scallions, chopped fine
½ cup pea pods, sliced thin
Instructions
Make the dressing: In a mason jar, add the lemon juice thru crushed red pepper. Mix well and season with salt and pepper. If the tahini is too thick and not mixing well, warm it in the microwave for 20 seconds, it will be easier to work with.
In a large bowl, add the veggies and toss with some of the tahini dressing.
Note: Dressing will stay good in the fridge for up to 2 weeks.