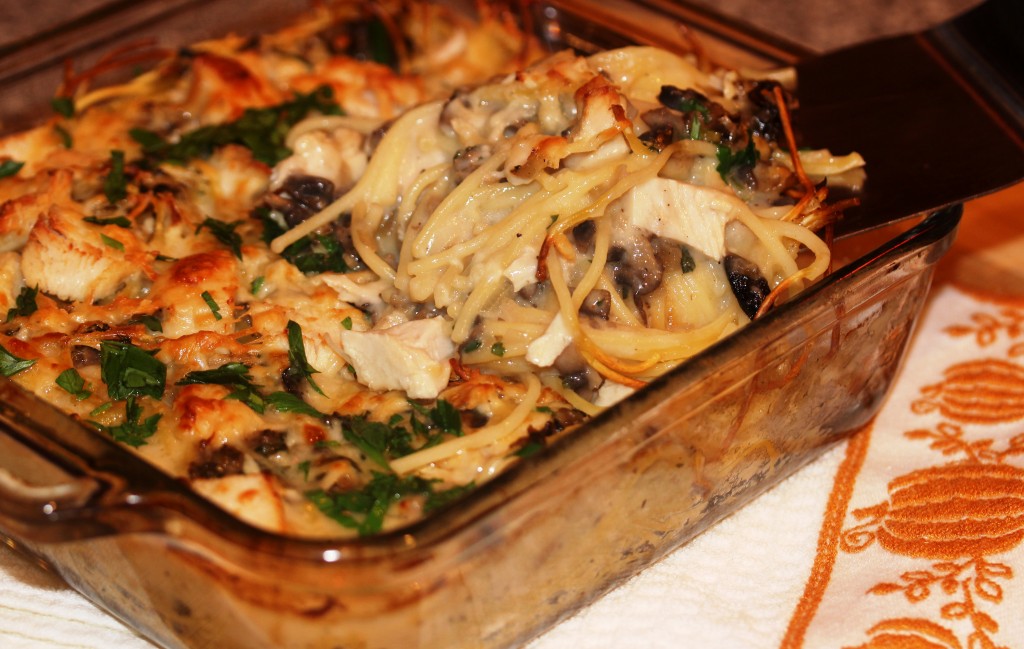 This was just sooooooo good.  The top gets crunchy and the inside of the casserole is moist.  A great way to use up your leftover turkey.  My son Will was stalking me in the kitchen the whole time it was in the oven.  It was the first time I made this, so I told him I thought it would be done at 6:15.  Well, at 6:15 the top wasn't as golden brown and crunchy as I wanted, so I had to give him the devastating news that it wouldn't be ready for 5-8 more minutes!  He was upset at first but came to terms with that.  Then I had to make matters worse by photographing it before he could have a piece!  OMG
Anyhoo, he loved it and declared he would have it for breakfast the next day.  Winner!  I looked at a few recipes for this online and a lot of them had a lot of butter and either regular milk or cream.  I thought by using my homemade super flavorful stock that  I could create something with less butter and use skim milk.  It totally worked.  If you aren't using homemade stock, do yourself a favor and reduce 3 cups of storebought down to 2.  This will intesify the flavor of the stock.

Lighter Turkey Tetrazzini
Prep time:
Cook time:
Total time:
Ingredients
2 Cups Chopped Mushrooms (any type)
2 Tbsp Chopped Shallots
1 Tbsp Chopped Garlic
½ Cup Chopped Parsley
Salt & Pepper to Taste
3 Tbsp Butter
2 Tbsp Flour
1 Cup Skim milk
1½ Cups Grated Parmesan Cheese
8 oz. Spaghetti, broken in half
2 Cups shredded or cubed turkey
Instructions
Preheat the oven to 350.
Boil Spaghetti for 4 minutes (You want it really al dente since it will be cooking in the oven).
In a saute pan, melt 1 Tbsp of butter and add the shallots and garlic. Season with salt and pepper and saute for 2 minutes. Add the mushrooms and saute until they cook down, 5-7 minutes. Set aside.
Meanwhile, melt remaining 2 Tbsp butter in a saucepan. Add the flour and whisk continuously for 2 minutes.
Slowly add the stock, whisking continiously to avoid lumps. When stock is all incorporated, slowly add the milk.
Simmer the sauce for 5-8 minutes until it starts to coat a wooden spoon. This is not going to be a really thick sauce, you are just looking for it to coat the spoon lightly.
Add ¾ cup of the parmesan and season with salt and pepper. You want it seasoned heavily as this is going to season the spaghetti. Add most of the parsley, reserving enough for garnish.
Spray and 8X8 pyrex dish.
Add half of the spaghetti to the dish, then half of the mushrooms, then half of the turkey, then half of the remaining cheese. Now add the second layer, spaghetti, turkey & mushrooms.
Pour the sauce on top of the casserole and add the remaining parmesan to the top.
Cook in the oven with foil on for 30 minutes. Remove foil and cook for 15-20 minutes more, until the top is golden and crunchy and the sauce is boiling.
Sprinkle the top with the remaining parsley for garnish and enjoy!