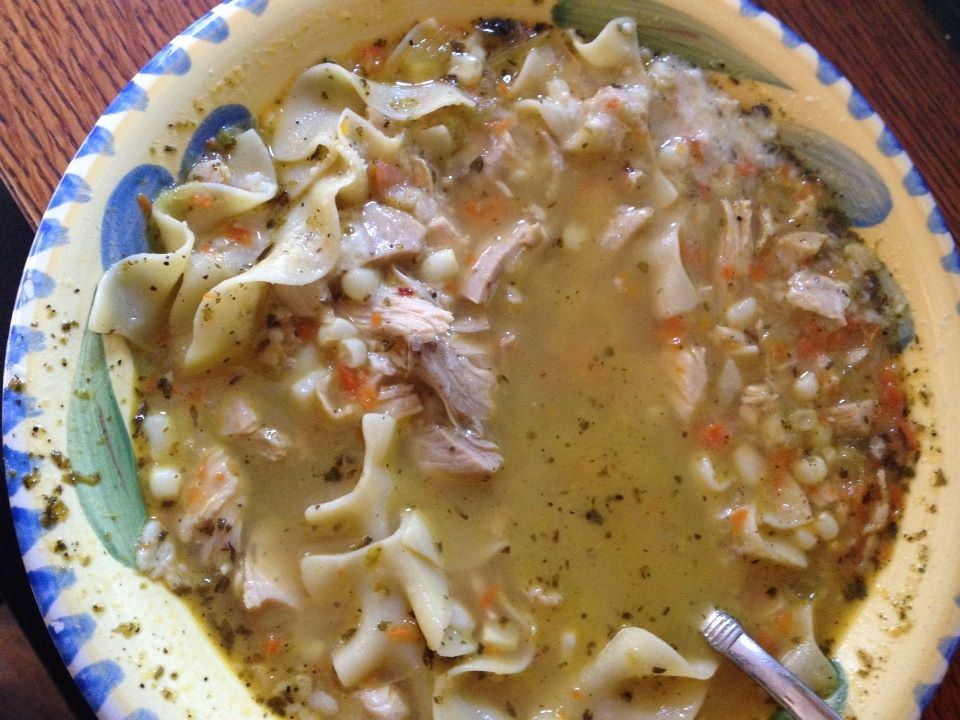 PLEASE do not throw out your turkey carcass!!!  The best part of Thanksgiving is the turkey soup. I <3 all kinds of soup and classic homemade turkey soup is one of my favorites.  Ok, I can prove it.  Right now it is the day before Thanksgiving and I have a 12 pound turkey cooking so that I can (a) Make my gravy today (I hate making it at the last minute with everyone hovering over you in the kitchen!) and (b) Have enough leftover turkey meat so that I can make my soups.  I usually make this classic one, a Turkey Tuscan one with stewed tomotoes & spinach and Turkey Gumbo (Bill's fave!).
The problem is that after tomorrow I will have 2 carcasses and more turkey stock than I have turkey meat, so then I will cook another turkey to get enough meat and then I will have another carcass………do you get my problem?
When Thanksgiving dinner is over, if you plan to make the stock the next day, just put all the bones and any leftover roasted veg, etc. in a large stockpot and put in the fridge if you have room (or in your garage/porch covered if it's cold enough overnight).  I call my porch my "walk in cooler" during the winter. 

  If you don't have time to cook the stock the next day, just put the bones in a large ziplock bag in the freezer for when you do have time.
I put the leftover soup in individual tupperware containers, labeled in the freezer.  It is a great, delicious, healthy meal that  you can heat up anytime!  Oh and budget friendly…that 12 pound turkey in my oven right now cost me $8

Homemade Turkey Soup
Prep time:
Cook time:
Total time:
Ingredients
Turkey Bones
Water
1 Tsp Black peppercorns
1 Bay Leaf
5 Carrots, 2 rough chop, 2 finely chopped
6 Celery Stalks, 3 rough chop, 3 finely chopped
4 Large Onions, 2 rough chop, 2 finely chopped
6 Cloves of Garlic, 3 whole, 3 finely chopped
1 Tbsp Italian or Herb de Provence Seasoning
Salt & Pepper to Taste
1 -2 Tbsp olive oil
4 Slices of Bacon, chopped (I like Center cut, but regular is fine)
Turkey Meat Leftovers
Parmesan rind (optional)
1 Tsp Crushed red pepper (optional)
2 Boxes frozen shoe peg corn
Parmesan cheese for serving
Cooked egg noodles for serving
Instructions
For the Stock:
Place all the turkey bones in a large stockpot. If you have any leftover roasted veg from your turkey pan, add that as well.
Add enough water to cover the bones. Place on the stove on high heat.
Add the rough chop onions, celery, carrots and whole garlic.
Add the peppercorns and bay leaf.
Salt and pepper to taste. When the stock gets close to boiling, reduce the heat to low and simmer at least 2 hours, up to 6.
Strain broth through a fine seive and discard veg.
Cool the broth and place in the refrigerator overnight so that you can easily skim the fat the next day.
For the Soup:
Heat a large stock pot on the stove and add the olive oil and bacon. Cook the bacon until it starts to crisp. Remove the bacon, saving the bacon fat.
To the bacon fat, add the finely chopped onions, carrots, celery, garlic, seasonings and salt and pepper to taste. Saute until the veg becomes translucent, 10-15 minutes.
Add enough skimmed stock for how much turkey you have (I like a 50/50 broth/veg & meat ratio, but if you like more meat, go for it.
Add the parmesan rind if using and the reserved bacon. Simmer the soup for 1 hour.
Right before serving, add the leftover turkey meat and the frozen corn, it will cook in about 5 minutes.
To serve:
Add some cooked egg noodles to the bowl (I do this seperately as the noodles will get reall mushy if you have lefovers, I NEVER add any kind of pasta or noodles to the main soup pot. Add the soup and sprinkle with parmesan.