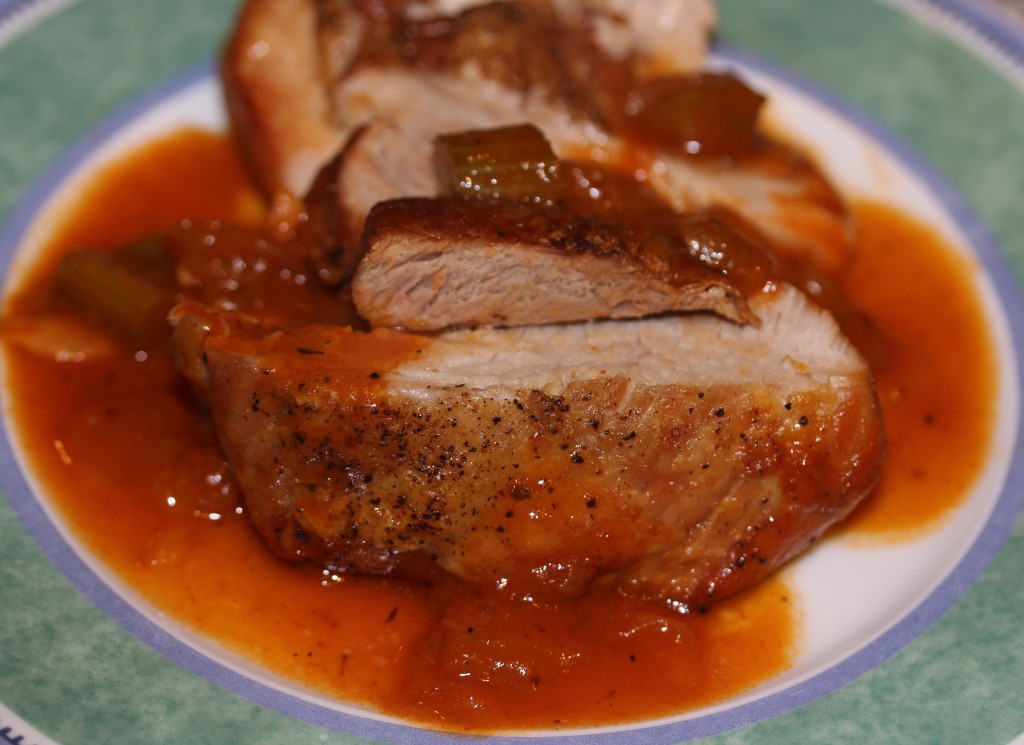 I went to a cooking class at Rialto on Sunday.  It was great.  Jody Adams is the chef and she is a very interesting woman, besides being an amazing chef.  The topic was braising and she prepared 3 dishes, then you sit down and enjoy all the dishes with a wine pairing.  Not a bad way to spend a Sunday!
So, she made a braised pork belly on a citrus salad that was so amazing, I have been dreaming about it.  No sheeps for me falling asleep this week, pork belly ….pork belly….It will be on the menu for my Fall Dinner party next year.
Yesterday I had a 3 pound pork loin roast (Under $6) and I decided I would braise it.  Braising is such a great way to add flavor to any cut of meat or some veggies (think leeks).  It is a moist cooking method that creates a luscious sauce (ok, now you know why I love braising!).
This the basic method:  Sear the braising subject.  Remove and carmelize braising veg in same pot.  Add liquid (beer, wine, stock, combo), return braising subject to pot.  Add water if needed so liquid comes a third of the way up, cover and finish in oven for hours.  Take out and enjoy the luscious sauce with braising liquid.  You can also finish braise in a crock pot but you must sear the subject and veg first, that is the main flavoring. Continue reading Braised Pork Roast →