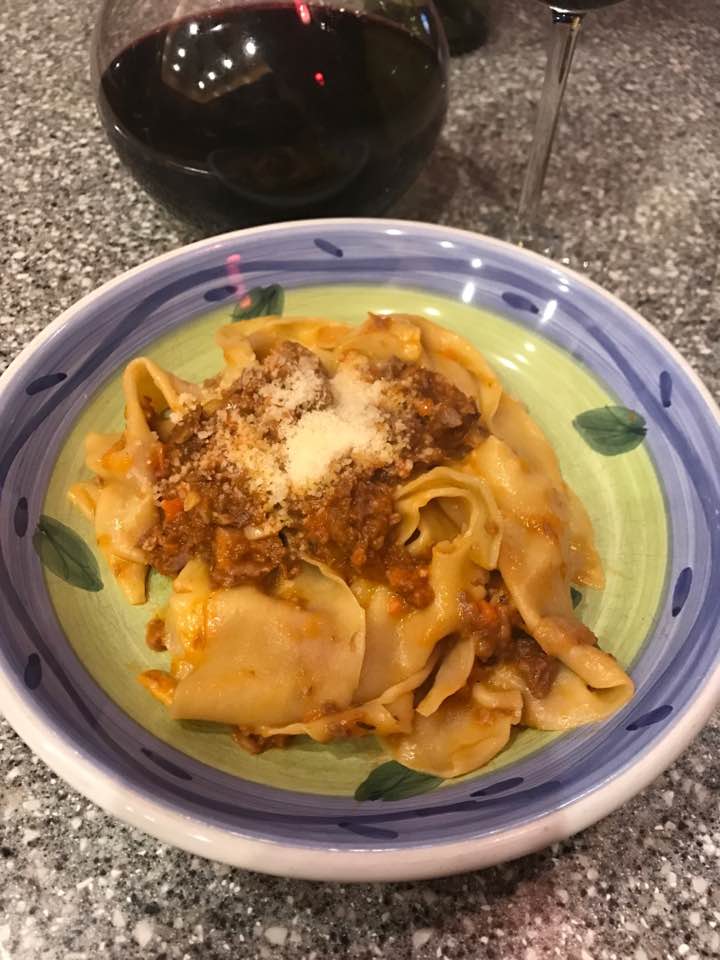 I made a 13 pound, 5 rib prime rib on Christmas for 9 people.  Needless to say, there was quite a bit leftover.  What to do with it?  There wasn't enough of the lean rare pieces in the middle to make a family meal, I had been thinking maybe stroganoff.  I knew I would make beef stock and French onion soup with the bones but what about all the meat?
Then, I thought, if I saved the lean pieces and ground it up, isn't that just the most amazing ground beef?  Then the idea of leftover prime rib Bolognese was born.  It was totally delicious, I had all the ingredients on hand and bonus, there was enough leftover to freeze for Lasagna Bolognese.

Leftover Prime Rib Bolognese
Prep time:
Cook time:
Total time:
Ingredients
2 Pounds leftover prime rib, beef roast (ground in the food processor) or 2 pounds ground beef
1 Tbsp olive oil
3 Oz of pancetta or bacon chopped
1 Large onion, chopped fine
2 Carrots, peeled and chopped fine (I use the food processor)
3 Celery sticks, chopped fine
3 Cloves of garlic, minced
2 Tbsp fresh thyme, chopped
1 Tbsp crushed red pepper (optional)
6 Oz can tomato paste
1 Cup white wine
1 Cup milk
Instructions
Heat a dutch oven on high and add the olive oil. Add the pancetta to the pan and cook for 3-5 minutes until it starts to crisp and renders some fat.
Add the onions to the pan and cook for 5 minutes.
Add the celery, carrots and garlic to the pan. Season with salt and pepper and mix well. Simmer for 5 minutes.
Add the tomato paste, thyme and crushed red pepper if using. Stir well for 1 minute until the tomato paste becomes fragrant. Add the wine to the pan and simmer for 3 minutes until it starts to reduce.
Add the milk to the pan and stir well.
Add the ground prime rib to the pan, season with salt and pepper and stir well. Place the lid almost all on the top of the pan (crack it a little or it will overflow) and reduce the heat to low. Simmer for one hour.
Adjust the seasoning if needed.
Serve with your favorite pasta. I prefer fresh pappardele or fettuccine.
Leftovers can be stored in the freezer for 6 months.