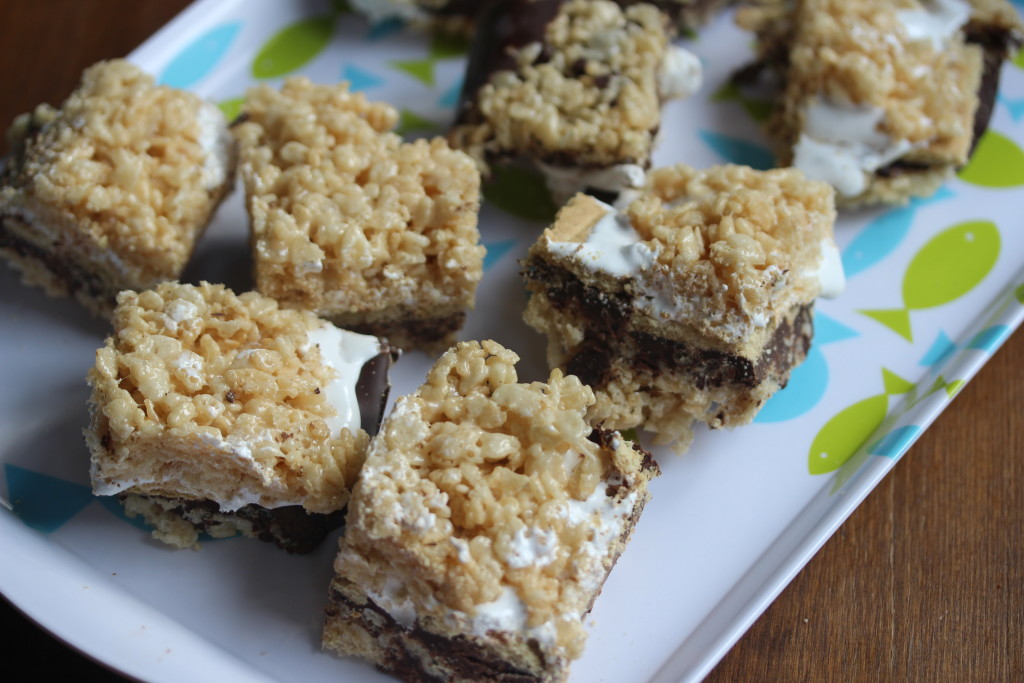 These taste just like S'mores but without the hassle of the campfire.  I like them with and without the fluff.  I promise you these will become your new favorite summer sweet treat!

S'more Bites
Ingredients
3 tablespoons butter
1 bag (10 ounce) marshmallows
6 cups rice-crisp cereal
18 oz melted semisweet chocolate chips
7½ rectangular graham crackers (or 15 squares)
1 cup marshmallow crème (such as Fluff) optional
Instructions
Spray a 13X9 inch pyrex dish.
Put the rice crisp cereal in a large bowl.
Melt the butter in a non stick pan and add the marshmallows. Stir frequently until the marshmallows are all melted. Add the marshmallow mixture to the rice crisps and stir well until it is all combined.
Meanwhile, melt the chocolate.
Spread half of the marshmallow crisp mixture into the bottom of the pyrex dish.
Spread the chocolate on top.
Place the graham crackers on top.
Spread the fluff if using.
Spread the remaining marshmallow crisp evenly on the top.
Put the smore bites into the fridge for 15 minutes.
Cut into small squares, should make 24.