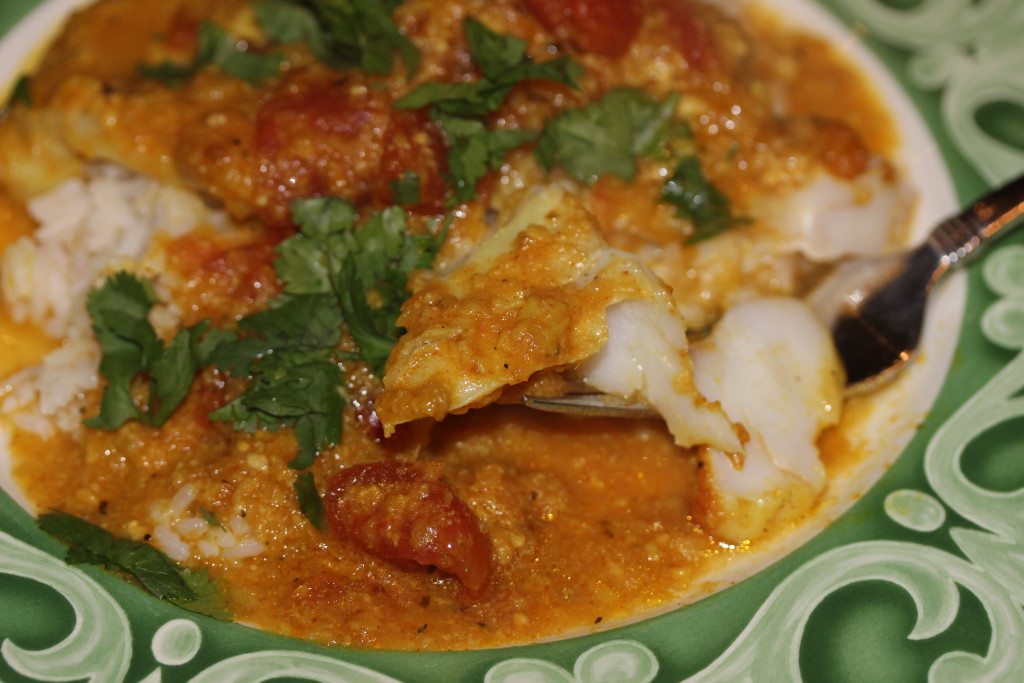 I was looking for a new way to cook fish and found this  recipe at the allrecipes.com site.  It is super quick to whip together on a week night and super delicious.  Tastes great on a bed of rice.  I will warn you, 2 tsp of cayenne is going to give you a LOT of heat, so start with 1 if you are not a big fan of lots of heat.

Indian Fish Curry
Author:
Mantu, AllRecipes
Prep time:
Cook time:
Total time:
Ingredients
2 teaspoons Dijon mustard
1 teaspoon ground black pepper
½ teaspoon salt
2 tablespoons canola oil
4 white fish fillets
1 onion, coarsely chopped
4 cloves garlic, roughly chopped
1 (1 inch) piece fresh ginger root, peeled and chopped
10 cashews
1 tablespoon canola oil
2 teaspoons cayenne pepper, or to taste (start with 1 if you don't like too much heat)
½ teaspoon ground turmeric
1 teaspoon ground cumin
1 teaspoon ground coriander
1 teaspoon salt
1 teaspoon white sugar
1/ 14 oz can chopped tomatoes
¼ cup vegetable or chicken broth
¼ cup chopped fresh cilantro
Instructions
Mix the mustard, pepper, ½ teaspoon salt, and 2 tablespoons of canola oil in a shallow bowl. Add the fish fillets, turning to coat. Marinate the fish in the refrigerator for 30 minutes.
Combine the onion, garlic, ginger, and cashews in a blender or food processor and pulse until the mixture forms a paste.
Preheat an oven to 350 degrees F (175 degrees C).
Heat 1 tablespoon of canola oil in a skillet over medium-low heat. Stir in the prepared paste; cook and stir for a minute or two. Add the cayenne pepper, turmeric, cumin, coriander, 1 teaspoon salt, and sugar. Cook and stir for an additional five minutes. Stir in the chopped tomato and vegetable broth.
Arrange the fish fillets in a baking dish, discarding any extra marinade. Top the fish with the sauce, cover the baking dish, and bake in the preheated oven until the fish flakes easily with a fork, about 30 minutes. Garnish with chopped cilantro.