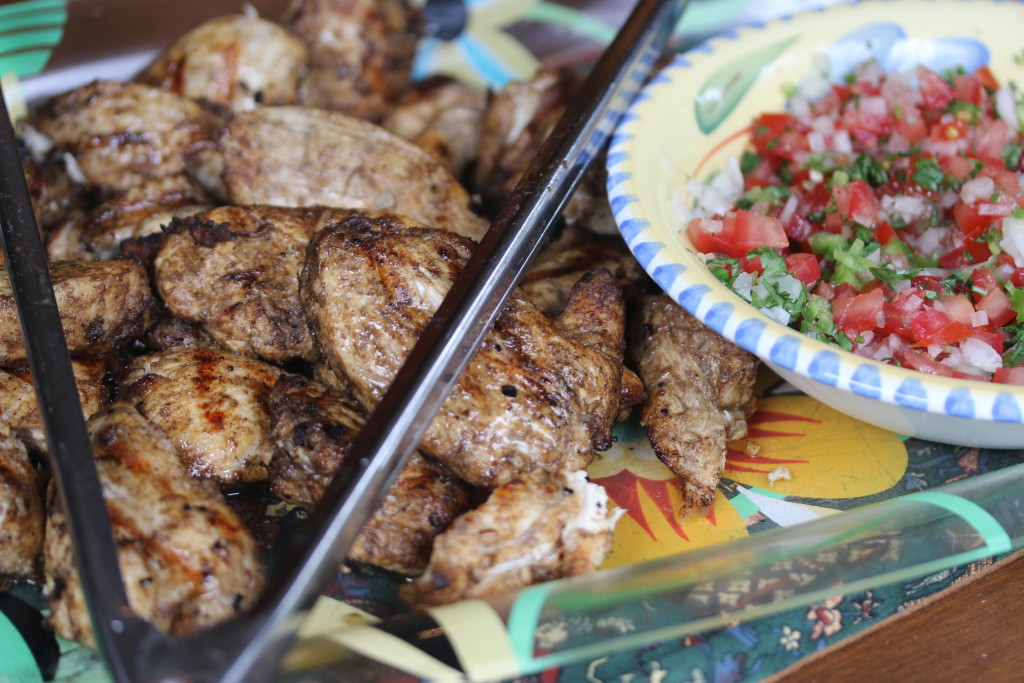 Who doesn't love fajitas?  I like this chicken version for a quick weeknight dinner.  Make extra chicken and have a chicken fajita salad for lunch the next day.  This marinade would be great for flank steak too if you would like steak fajitas.  It's all about the fixin's so make some homemade Guac and Pico de Gallo to go with it.

Chicken Fajitas
Prep time:
Cook time:
Total time:
Ingredients
1.5 pound boneless skinless chicken breast, sliced into 3 inch pieces
½ cup olive oil
1 Tbsp cumin
1 Tbsp chile powder
1 Tbsp garlic powder
1 Tbsp dried granulated onion
2 Tbsp finely chopped garlic
1 Tsp cayenne (optional)
Kosher salt & Pepper
Instructions
Salt and pepper the chicken all over and put the chicken in a zip lock bag.
Put olive oil thru cayenne in a bowl and mix well. Add the marinade to the zip lock bag and marinate for at least 30 minutes and up to 8 hours.
Heat a grill to high. Add the chicken and cook for 6-7 minutes until brown, turn over and cook for 7-10 more minutes until cooked through.
Let the chicken rest for 5 minutes and then slice into fajita strips.
Serve on tortilla wraps with your favorite fixings such as: Pico De Gallo, guacamole, shredded cheese, sautéed onions & peppers, sour cream and hot sauce.