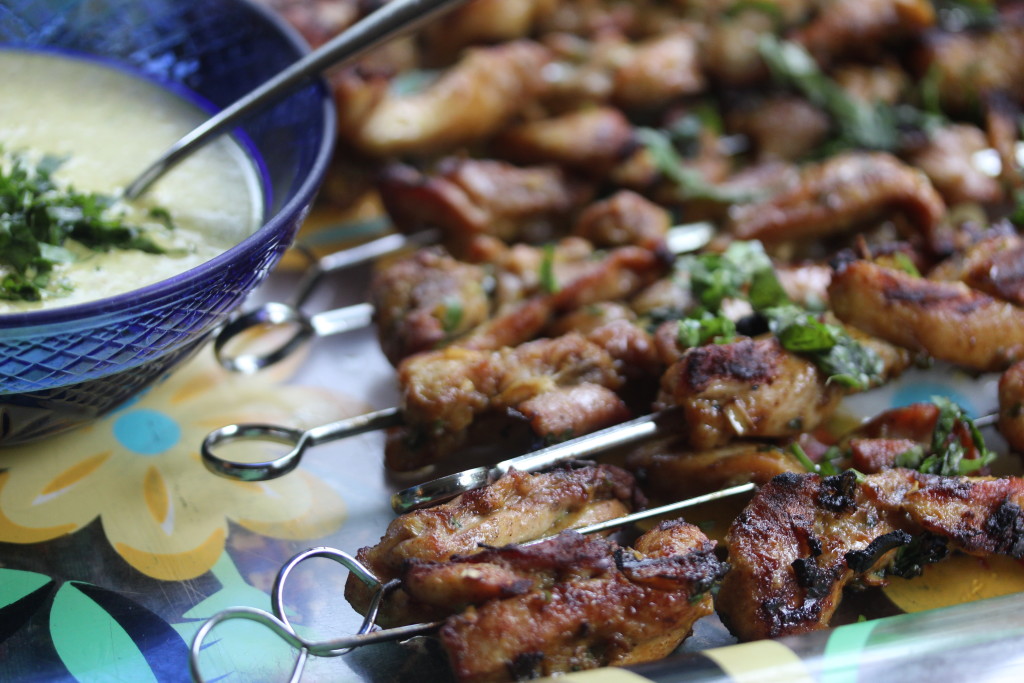 Got the June Food & Wine which had so many great grilling recipes.  One article is about Harrison Ford and his son and their grilling matches.  Apparently Harrison is quite the cook and his son is a Chef and owns his own restaurant.  Who knew?  This recipe is Harrison's and it is a keeper.
These were so delicious.  Do not skip the dipping sauce.  Trust me, it's all about the sauce!!! 

Chicken Curry Skewers
Prep time:
Cook time:
Total time:
Ingredients
¼ Cup minced lemongrass (2 stalks)
2 Tbsp Canola oil
2 Tbsp Soy Sauce
1 Tbsp Fish Sauce
1 Tbsp Curry Powder
1 Serrano chile, finely minced
2 Garlic Cloves, finely minced
2 Pounds boneless, skinless chicken thighs, cut into 1 inch strips
Skewers
Instructions
In a bowl, mix the lemongrass through garlic. Season the chicken with salt and pepper.
Add the chicken and the marinade to a ziplock bag and marinate for at least one hour, up to 8 hours.
Thread the chicken onto skewers, cook on a hot grill for 7 minutes. Turn and cook for 7-10 more minutes until chicken turns golden brown and is cooked through.
Serve with the Curry Dipping Sauce.