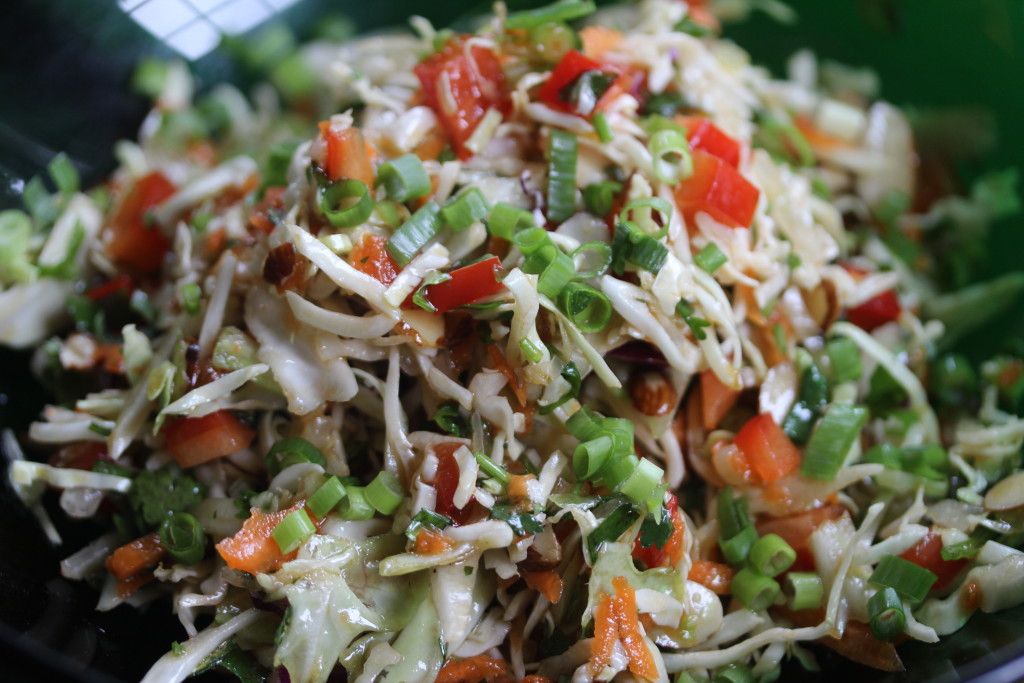 It's been ages since I posted.  I had a problem with my recipe plug in a few months back and after fighting with it for 3 hours, I got frustrated and gave up.  Last weekend I tried again and figured it out in less than an hour, so I'm ready to go now!!!  I will be posting a lot of my new favorite summer recipes now, so stay tuned!
I must admit, I am addicted to this salad.  It's an amazing side dish to any summer BBQ that you go to.  It also makes a great main course if you add protein to it.  I've added roasted chicken, grilled chicken, grilled shrimp, Ahi tuna, whatever you like.
You can also add other veggies.  Snap peas, edamame, avocado, whatever strikes your fancy!

Chinese Cole Slaw
Ingredients
Head of Cabbage sliced (or bag of pre-made)
One Red Bell Pepper, sliced
8 Scallions, sliced fine
4 carrots, peeled and grated
½ Cup Sliced Almonds
Sesame seeds for garnish
Instructions
Add the cabbage thru almonds into a large bowl.
Salt and pepper to taste and mix well.
Shake the dressing well and add about a ¼ cup. Mix well. Add more dressing if needed.
Garnish with a few sprinkles of the sesame seeds.
Hint: The dressing goes a long way, so add a little at a time, you can always add more. Do not dress the salad until you are ready to serve as it will lose it's crisp texture.