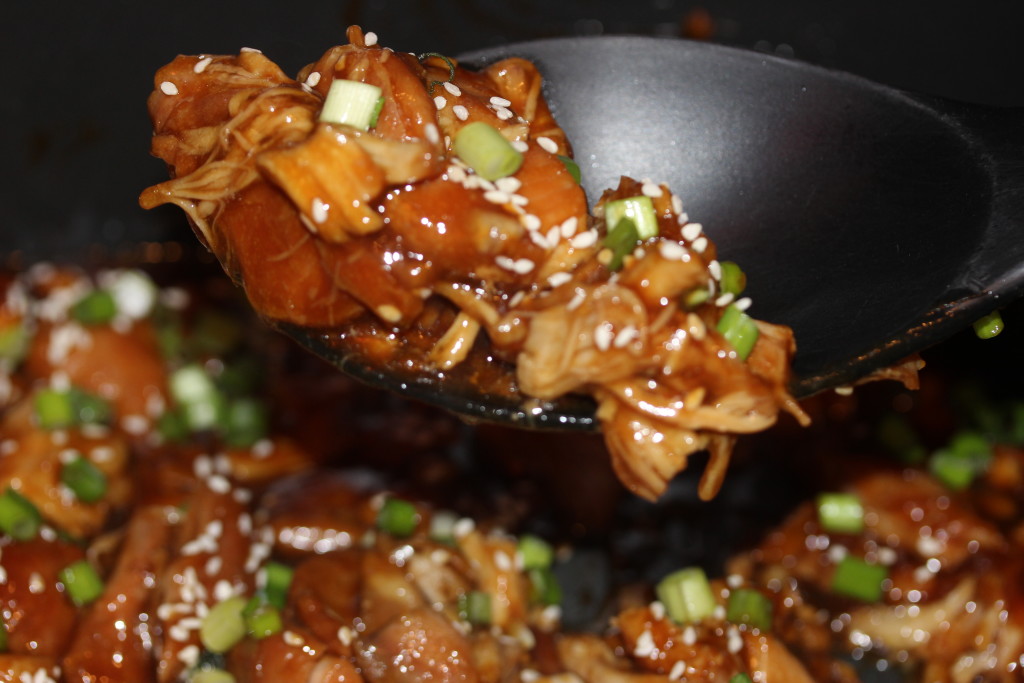 I got a new Slow Cooker last week and now I am on a Slow Cooker binge.  I've used it 4 nights in a row and the boys come home asking what's in the Slow Cooker tonight?  LOL.  It's amazing how a few ingredients thrown together and slowly cooked for hours can make something  so simple, so great.
This is so easy and delicious.  Leftovers would be great as Asian tacos (if you have any leftovers!).  Enjoy

Slow Cooker Sesame Ginger Chicken
Prep time:
Cook time:
Total time:
Ingredients
1 tablespoon canola oil
1 tablespoon sesame oil
8 boneless skinless chicken thighs, seasoned with kosher salt
½ cup lower-sodium soy sauce
4 tablespoons light brown sugar
4 tablespoons fresh orange juice
2 tablespoons hoisin sauce
2 tablespoons minced peeled fresh ginger
2 tablespoons minced garlic
2 tablespoons cornstarch
2 tablespoons cold water
2 teaspoons toasted sesame seeds
2 tablespoons sliced green onions
Instructions
In a sauce pan, heat to high, add the canola oil and then add the chicken. Cook for 5 minutes, then flip and cook for 4 more minutes.
In the meantime, combine sesame oil, soy sauce, brown sugar, orange juice, hoisin sauce, ginger and garlic in a bowl, mix well.
Add the chicken to the slow cooker, pour the soy sauce mixture over and cook on low for 2 hours, turning the chicken a few times.
Remove the chicken from the slow cooker, turn the heat to high. Mix the cornstarch and water and add to the sauce in the slow cooker. Mix well, and simmer for a few minutes until this sauce thickens.
Meanwhile, cut the chicken into bite size pieces. Add the chicken back to the slow cooker, mix well to coat the chicken in the sauce.
Sprinkle the chicken with the sesame seeds and the scallions.
Serve with rice and stir fry veggies.