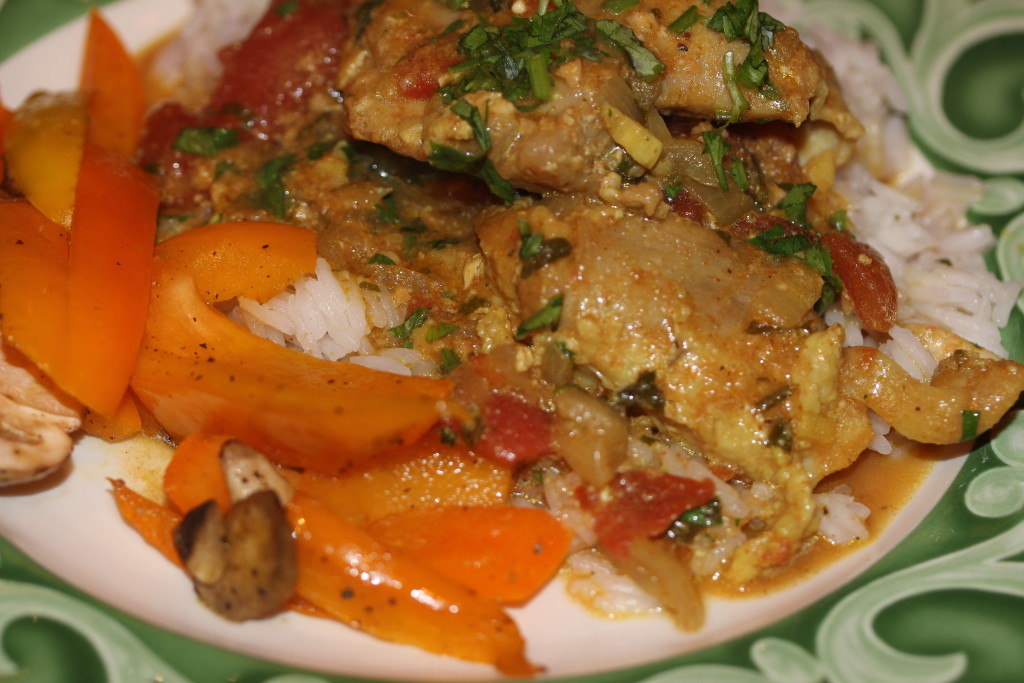 This was so flavorful and a great way to spice up your chicken dinner.  21Day fix approved.  Kid and Bill approved.  Julie approved.  It's a winner.  Leftovers tasted great heated up with some zucchini on the side.  If you want it to cook faster, cut the chicken into bite size and it will probably take only 15 minutes to simmer.  A must try!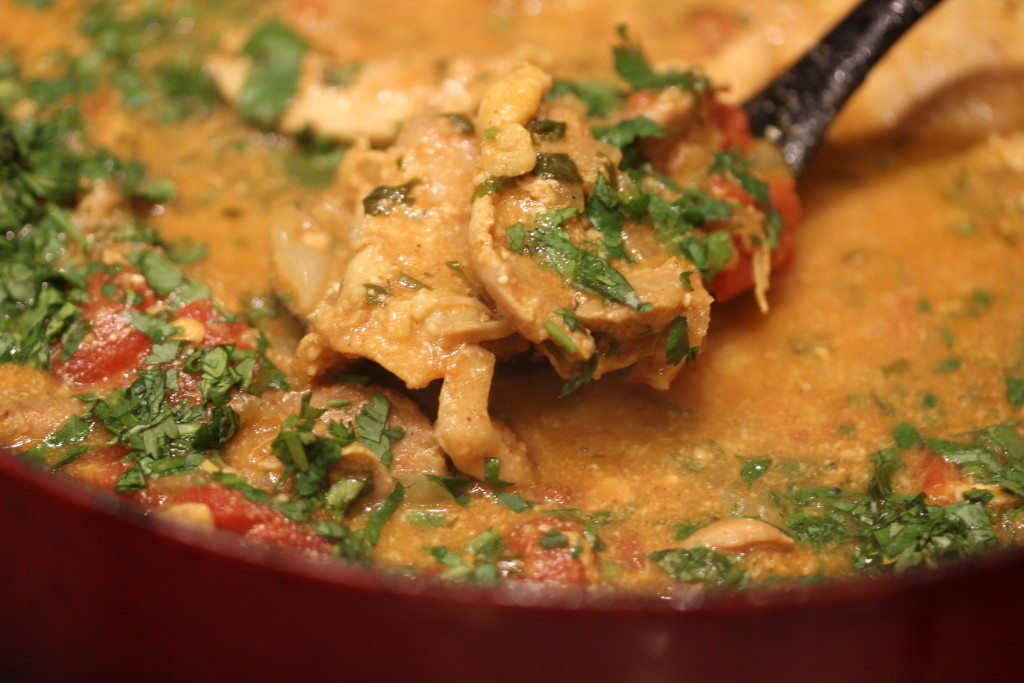 Chicken Curry
Author:
Adapted from Epicurious
Prep time:
Cook time:
Total time:
Ingredients
2 Tbsp Olive oil
2 Cups finely chopped onion
2 Tbsp finely chopped garlic
1 Tbsp finely chopped fresh ginger
3-4 Tbsp curry powder
1 Tbsp cumin
1 Tsp cayenne (1/2 if you don't like it too spicy)
8 boneless skinless chicken thighs, seasoned with salt & pepper
1 14.5 oz can chopped tomatoes
½ cup chopped cilantro
¾ cup plain yogurt (Put on the counter to warm up when you start cooking)
Instructions
Heat a dutch oven on high. When the pan is hot, add the olive oil. Add the chicken and cook for 7 minutes (you will likely have to do it in 2 batches. Do not crowd the pan or you will not get the great brown bits of flavor). Turn the chicken over and cook for 5 more minutes. Remove the chicken to a bowl. Cook the second batch of chicken the same and add to the same bowl.
To the dutch oven add the onions and cook for 5 minutes.
Add the garlic and ginger and cook for 2minutes. Add the tomatoes with their juices, curry powder, cumin, cayenne and season with salt & pepper. Mix well.
Add the reserved chicken with all the juices and ⅓ cup of the cilantro. Bring to just under a boil, reduce the heat to low and simmer covered until cooked through, about 30 minutes.
Add the yogurt to the curry, mix well and cook for 3 minutes until it is warmed through.
Serve the chicken with jasmine rice and a sprinkle of the remaining cilantro.