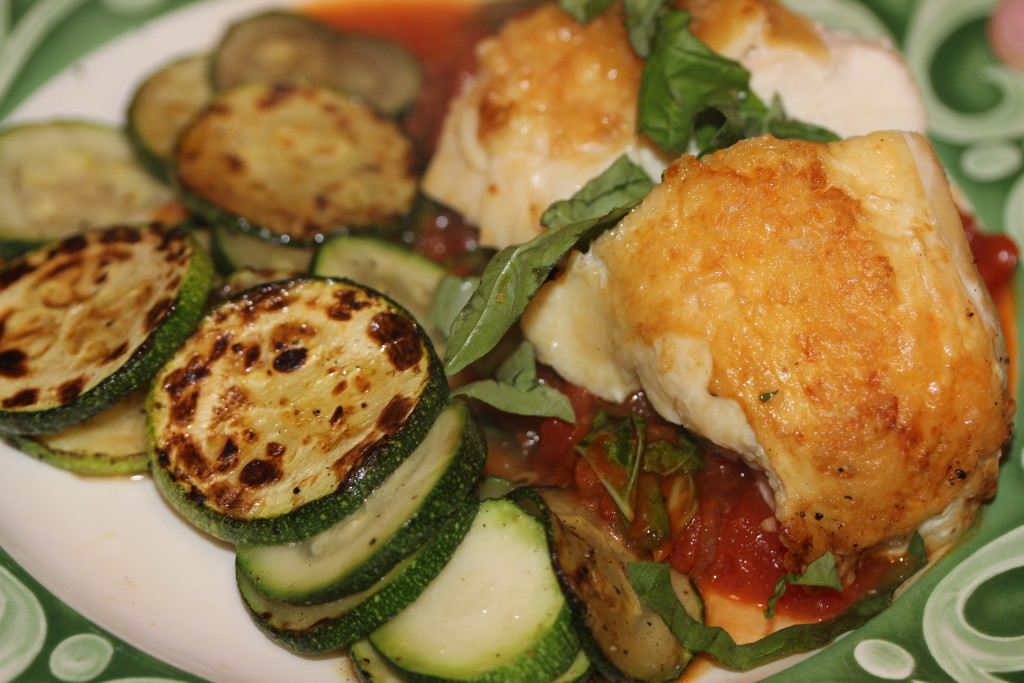 This is a great weeknight dish.  The sauce is super quick and easy to whip up, and very tasty.  Tasted great with the pan seared zucchini I served it with.  As far as the chicken skin goes, you can choose to eat it or skip it (I like to have a small bite).  Cooking the breast on the bone with the chicken results in super moist chicken.  Try it!

Chicken & Vinegar
Author:
Adapted from Jacques Pepin
Prep time:
Cook time:
Total time:
Ingredients
4 Split Chicken Breast on the bone, seasoned with salt & pepper
1 Tbsp Olive Oil
4 Tbsp finely chopped shallots
2 Tbsp finely chopped garlic
⅓ Cup red wine vinegar
½ Cup water
1 14 oz Can chopped tomatoes
1 Tsp crushed red pepper (optional if you like a little heat)
4 Tbsp chopped fresh basil
Instructions
Heat the oven to 400
Heat a skillet to high and add the olive oil. Add the chicken breasts skin side down and cook for 5-7 minutes until they turn golden. Flip the chicken and cook for 3 more minutes. Move the chicken to a cookie sheet and bake until finished cooking, about 30 minutes. Remove chicken when it has reached 170 degrees. Tent on a cutting board for 5 minutes. I like to remove the breast from the bone and slice before serving.
Meanwhile, make the sauce:
To the same skillet, add a dash more olive oil if there is not enough liquid in the pan. Add the shallots and cook for 3 minutes, add the garlic and cook for 1 minute, be careful the heat is on medium low so that you don't burn the garlic.
Add the red wine vinegar, scraping up all of the brown bits at the bottom of the pan. Reduce for 2 minutes.
Add the water and tomatoes. Salt and pepper to taste. Add the crushed red pepper if using. Simmer the sauce for 5 minutes. When you have removed the chicken from the oven, add any accumulated juices to the sauce. Just before serving, add the basil so that it just wilts.
Serve the chicken with the sauce.