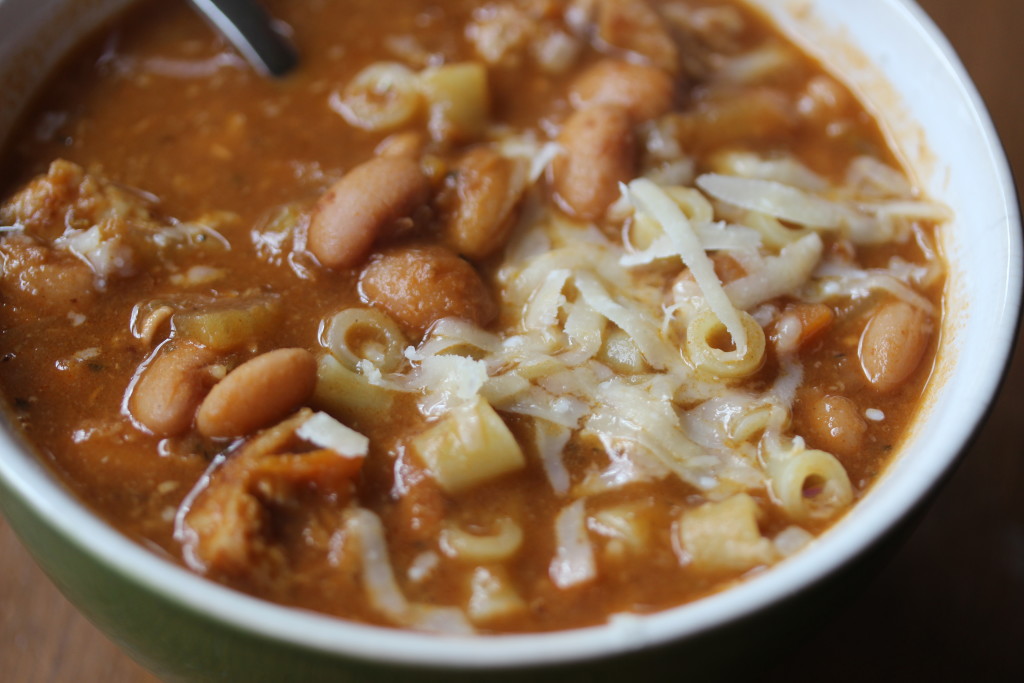 This soup is healthy, hearty and delicious.  Pureeing some of the bean soup and adding it back in creates a creamy thick broth.  I like to use the hot Italian chicken sausage to give it a nice kick!

Sausage & Bean Soup
Author:
Adapted from Nick Stellino
Prep time:
Cook time:
Total time:
Ingredients
1 Pound Sweet or Hot Italian chicken sausage, casings removed
2 Tbsp olive oil
1 Onion, chopped
1 Pound of your favorite dried beans (cannellini, navy beans or great northern beans), soaked in water overnight
2 Carrots, chopped fine
2 Celery ribs, chopped fine
2 Tbsp finely chopped garlic
1 Tsp crushed red pepper (optional)
1 Tbsp italian seasoning
2 Bay leaves
2 Cups of your favorite tomato sauce
6 Cups of Chicken broth
Cooked ditalini pasta (optional)
Grated Pecorino Romano or Parmesan Cheese for serving
Instructions
Heat a dutch oven or soup pot to high and add 1 Tbsp olive oil.
Add the onions and cook for 5 minutes. Turn the heat to medium and add the garlic, celery and carrots. Cook for 5 minutes. Add the bay leaves, crushed red pepper and italian seasoning and season with salt & pepper.
Add the beans, tomato sauce and chicken broth. Stir well.
Partially cover and cook for 2 hours, stirring every 15-20 minutes.
When the beans are soft, remove 4 cups of the soup and puree in a blender. Add the puree back to the pot.
Meanwhile, heat a saute pan to high, add the remaining 1 Tbsp olive oil and add the sausage to the pan. Breaking up the sausage as small as possible. Cook for 8-10 minutes until the sausage is browned. Add the sausage to the soup and cook for 20 more minutes.
Serve with the ditalini if using and garnish with pecorinio romano or parmesan cheese.