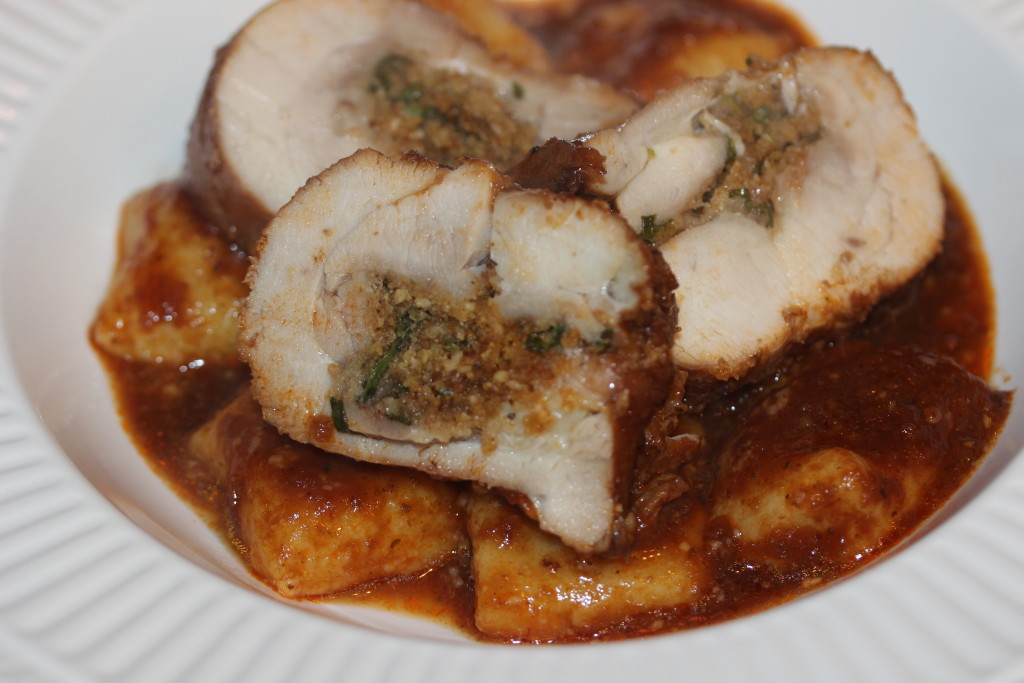 Braciole is a famous Italian dish.  It is usually made with flank steak and sometimes veal but pork tenderloin would be great too.  I decided to try a chicken version.  If you don't like thighs you could try chicken breast but that tends to dry out during the braising process so I wouldn't recommend it.
Braciole is any meat that has been pounded thin, stuffed with a stuffing mixture, rolled like a jelly roll, seared and then braised in wine and tomato sauce.  The stuffing can be mixed up with whatever you like, proscuitto, different types of cheese, make your mark.
This is a little effort for a lot of taste and it's beautiful.  Would be great for a dinner party, as you could get it all going ahead of time.  I like to serve this with gnocchi but any pasta would be great!

Chicken Braciole
Prep time:
Cook time:
Total time:
Ingredients
6 skinless boneless chicken thighs
2 slices of provolone, chopped
½ cup grated romano cheese
1½ cups italian bread crumbs
1 Tbsp finely chopped garlic
3 Tbsp finely chopped parsley
3 Tbsp olive oil
1 Cup red wine
1 Quart of your favorite tomato sauce
Instructions
In a bowl mix together the provolone, romano, bread crumbs, garlic, parsley and 2 tbsp of olive oil. Mix well and season with salt and pepper.
Pound the chicken thighs between wax paper.
On one side of the chicken thigh add 2-3 Tbsp of the stuffing. Wrap the chicken thigh like a jelly roll and tie with kitchen twine.
Season the chicken thighs with salt and pepper on both sides.
Heat a dutch oven on high and add the remaining 1 Tbsp of olive oil. Add the chicken and cook for 5 minutes until brown on one side. Flip and cook for 5 more minutes.
Remove the chicken and add the wine to the pan. Cook for 2 minutes, scraping up all the brown bits.
Add the tomato sauce, stir well and then add the chicken and juices back to the pan. Turn the heat to low, partially cover and cook for 30 minutes. Flip the chicken over, cover partially and cook for 20 more minutes.
Remove the chicken to a cutting board and let rest for 10 minutes. Remove the twine and slice into 1 inch slices.
Skim any excess fat from the sauce and serve the chicken with the sauce. I like to serve this with gnocchi but any pasta would be great.