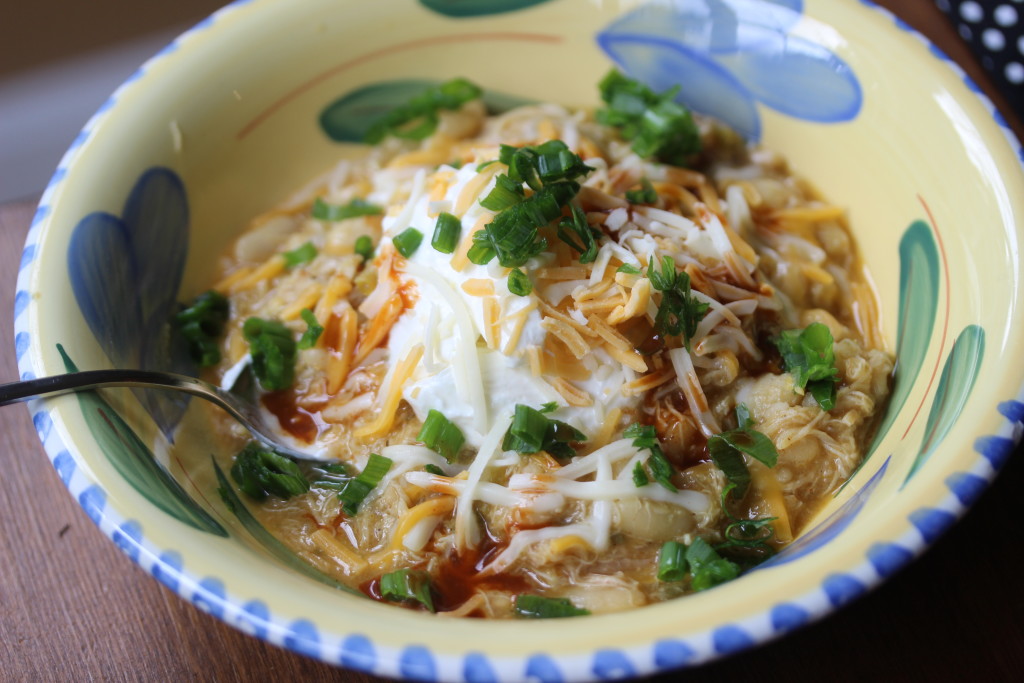 It's fall and my favorite time of year for cooking.  Soups, stews and chilis are a staple and I love to cook all day Sunday and fill my freezer with individual size containers for lunches.  This is a great twist on chili.  Super healthy and delicious and a bowl will hold you over until dinner time.  Top  with your favorite fixings and enjoy!

White Chicken Chili
Author:
Adapted from Ree Drumond
Prep time:
Cook time:
Total time:
Ingredients
2.5 pounds of boneless, skinless chicken thighs
1 Tbsp Olive oil
1 Large onion, chopped small
2 Tbsp finely chopped garlic
2 Jalapenos, chopped fine (keep the ribs and the seeds if you like it spicy)
(2) 7 oz can chopped green chilis
1 Tbsp cumin
1 Tsp paprika
½ Tsp cayenne pepper
White pepper
Adobo seasoning (can replace with salt & pepper)
1 pound dried northern beans (rinsed)
8 cups chicken broth
1 cup skim milk
2 Tbsp corn meal
Optional garnishes: Sour cream, hot sauce, cheese & scallions
Instructions
Season the chicken all over with the adobo.
Heat a large stockpot to high. Add the olive oil. Add the chicken.
Cook chicken for 5 minutes until it is getting browned and flip over. Cook for 5 minutes, remove to a bowl and set aside. You may need to do this in 2 batches.
Reduce the heat to medium and add the onions. Salt and pepper to taste. Cook for 5 minutes.
Add the garlic and jalapenos. Cook for 2 minutes.
Add the green chilis, cumin, paprika, cayenne, beans and chicken broth. Stir well and add the chicken and juices. Simmer for 3 hours or until the beans are cooked through.
Remove the chicken and shred. Add the chicken back to the pot.
Mix the milk and corn meal. Add the milk mixture to the pot and cook for 10 more minutes, to thicken.
Serve with your favorite toppings.
Freezes well.