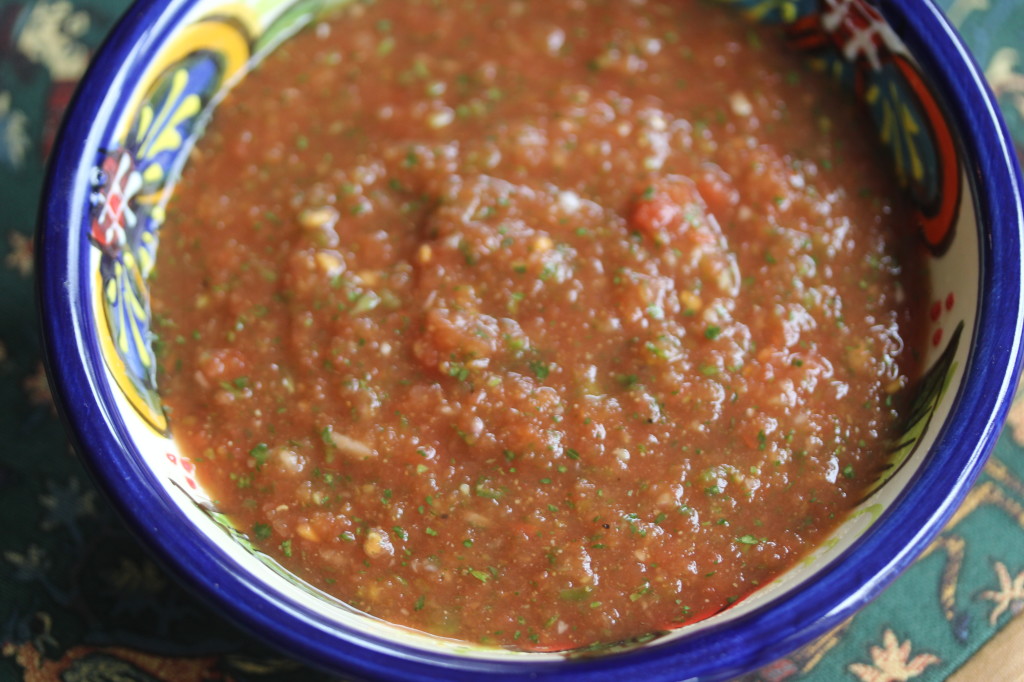 There is nothing like this homemade salsa.  It's better than what you can buy at the store and it literally takes less than 10 minutes to make.  During grill season, I always have some in the fridge.  It's not just for chips (although, yes, chips/salsa/guacamole/margaritas are a fave combo!).  It's great on a piece of grilled chicken or fish, as a topping for tacos, etc.
My most recent discovery is that it is fantastic as salad dressing on a Mexican style salad!  With no oils in it, it's a super low-fat, low cal way to dress you salad in deliciousness!

Homemade Salsa
Ingredients
2 10 oz. can rotel tomatoes (sometimes found near the Mexican food)
1 14.5 oz. can chopped tomatoes
3 Tbsp coarsely chopped shallot
2 cloves of garlic
1 cup cilantro
1 jalapeno (seeded if you don't like it too spicy, with seeds if you do) coarsely chopped
Juice of one lime
1 Tbsp cumin
1 Tsp sugar
Salt and Pepper
Instructions
Place all ingredients in a food processor and process until everything is mixed well. Taste for seasoning. You may want to add a little more lime and a touch more sugar, etc.
Store in a Tupperware container in the refrigerator for up to 3 weeks.