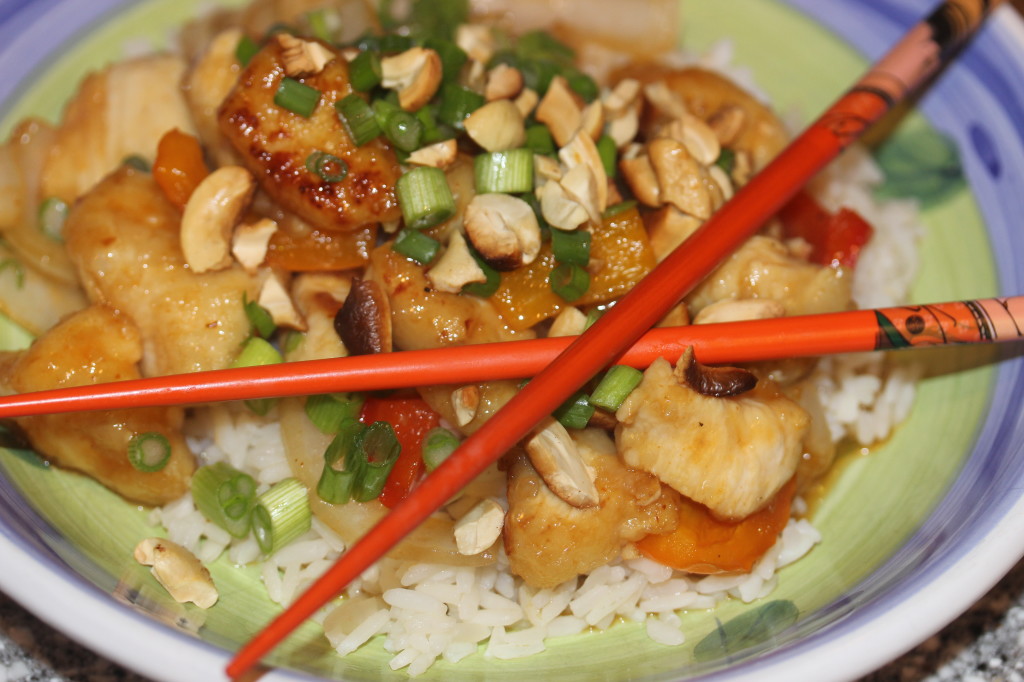 We love stir fry's in my house.  I will usually serve them on top of white or brown rice.  Stir fry's are also a great way to eat up those lonely veggies in your kitchen.  You know, the lost 1/2 pepper, 5 mushrooms, 1/2 cup of snow peas, that you can't do anything with on their own.  Really, I probably make stir fry once a week!
This one is adapted from a recipe I found.  You can marinate the chicken (or not) and you can choose to dredge the chicken in corn starch (or not).  Marinating the  chicken in the buttermilk mixture will make it more tender but if you don't have buttermilk or don't have time to marinate on a week night, no worries.  The cornstarch coating will keep the chicken more moist but some people don't want to use it, so again, no worries.  The sauce is yummy, yummy!

Orange Chicken Stir Fry
Prep time:
Cook time:
Total time:
Ingredients
1 pound chicken breasts, cut into 1 inch pieces
½ cup buttermilk
2 tablespoons soy sauce
Juice from 1 orange (approx. 2 tablespoons)
1 Tbsp Canola oil
1 onion, sliced
1 red bell pepper, sliced into strips then chopped in half
2-3 teaspoons freshly grated ginger*
3 cloves garlic, minced
2 bunches of scallions, sliced
⅓ cup apricot preserves
2 tablespoons soy sauce (low sodium)
¼ cup red wine vinegar
3 tablespoons brown sugar
2 tablespoons honey
1-3 teaspoons sriracha/Asian hot red chili sauce**
Juice of 1 orange
1 teaspoon cornstarch
½ cup cornstarch
¼ cup chopped cashews, optional
Instructions
In a bowl, mix the buttermilk, soy sauce & 2 Tbsp orange juice. Season with salt. Add the chicken to the bowl to marinate, at least 30 minutes. This is optional, you don't have to marinate the chicken but it will be more tender if you do.
Make the sauce: In a small sauce pan, add the apricot preserves thru juice of one orange. Season with salt and pepper and simmer for 10 minutes. Add the tsp of cornstarch, mix well and simmer for 5 more minutes until sauce thickens.
Heat a large non-stick pan and add the canola oil.
Season the chicken with salt and pepper and dredge it into the remaining ½ cup of cornstarch (you can skip this step if you don't want to use cornstarch). Shake chicken to remove excess cornstarch and add to pan.
Cook chicken stirring frequently for 6-8 minutes. Remove chicken (chicken does not have to be cooked through to this point, it will finish cooking in the sauce later).
Meanwhile, add the onions and peppers to the pan. Add a touch more oil if needed. Season with salt and pepper and cook for 3 minutes. Add the ginger and garlic and cook for 2 minutes.
Add the chicken and any juices back to the pan. Add the sauce to the pan and simmer for 5 minutes until sauce has reduced and chicken is cooked through.
Add the scallions and mix well.
Serve with a sprinkle of chopped cashews if desired.