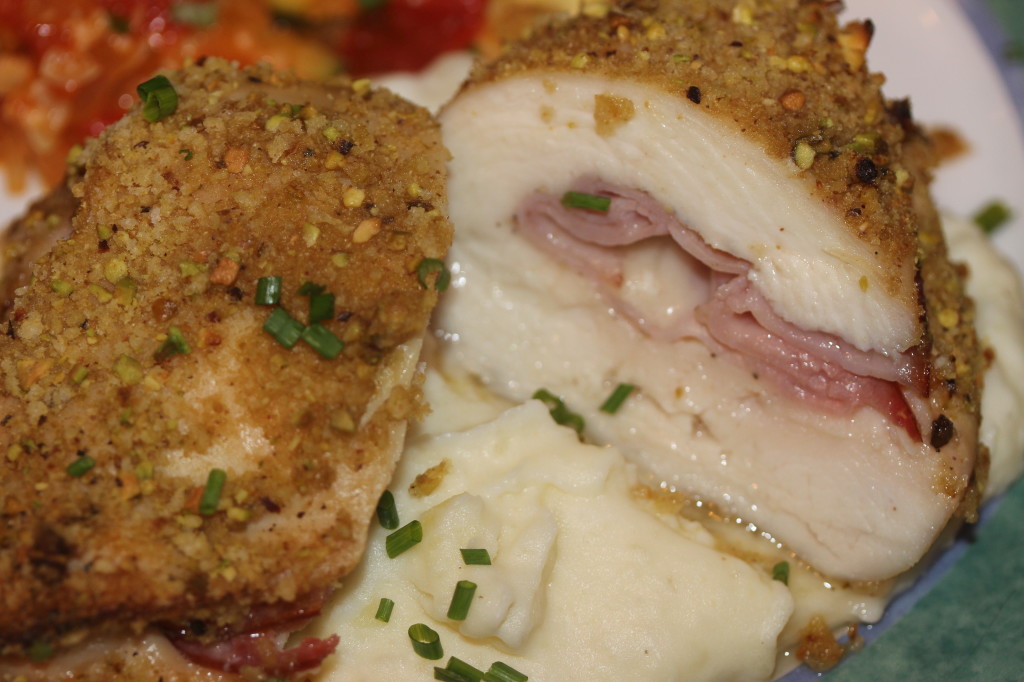 Chicken Cordon Bleu is one of the first "fancy" things I remember eating as a child.  It usually comes with a thick creamy sauce but frankly, when you have chicken with melted cheese on the inside and coated with pistachios on the outside, I don't think the sauce is necessary!  This is quick to put together but still special.  Everyone agreed, even both boys so I know it was a score.  You could make lots of changes on this one;  Swap out gruyere for swiss or cheddar, omit the ham, do goat cheese & spinach, the possibilities are endless

Pistachio Crusted Chicken Cordon Bleu
Prep time:
Cook time:
Total time:
Ingredients
⅔ Cup pistachios (shelled)
1 Cup Panko
2 Boneless chicken breasts, sliced vertically and pounded thin
4 Slices black forest ham
1 Cup shredded gruyere
2 Tbsp olive oil
2 Tbsp honey
1 Tbsp dijon
1 Tbsp cider vinegar
Instructions
Heat oven to 350.
In a food processor, add the pistachios. Process as a rough chop, then add the panko and process again. Season with salt and pepper. Pour pistachio mixture onto a plate.
Lay out the chicken and place a slice of ham on each.
Sprinkle ¼ cup of the cheese on top of the ham.
Fold the chicken over like a book and secure with toothpicks.
Mix the oil, honey, dijon and vinegar in a small bowl until combined. Season with salt and pepper.
Season chicken with salt and pepper and then brush chicken all over with the honey dijon mixture (one at a time). When chicken has been coated with the honey mixture, put the chicken in the pistachio mixture and coat all sides of chicken.
Put chicken on a wire rack on top of a cookie sheet. Repeat with the rest of the chicken.
Cook chicken in the oven for 30-40 minutes until cooked thru. Check the chicken at 30 minutes and put foil on top if it is getting too brown.