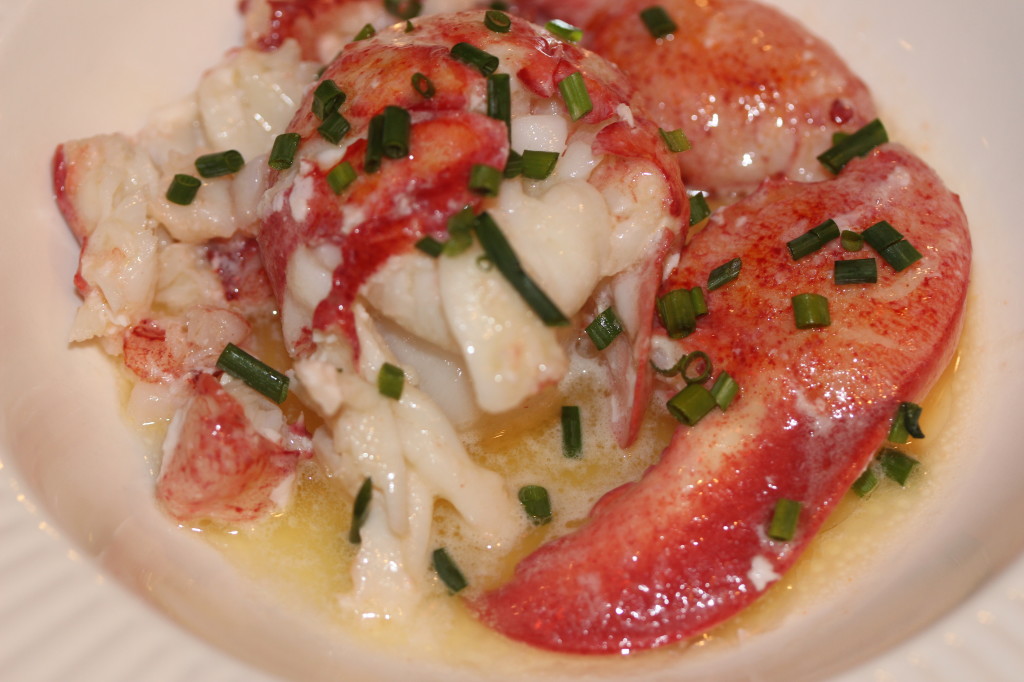 You can boil lobster, you can steam lobster or you can cook it in buttah. 

  What I like about this is that the lobster will be nice and hot when you eat it, as I find that by the time you clean your lobster and then dip it in the butter, the butter and lobster have cooled off.  This way, you do the work ahead of time and then when you eat the lobster, it's just lobster heaven.
Don't get scared that it's 2 sticks of butter.  I maybe end up serving mine with 1 Tbsp and then don't eat all of that, you are using the butter to cook it in but not eating all of it.  Enjoy!

Butter Poached Lobster
Prep time:
Cook time:
Total time:
Ingredients
2 1.5 pound lobsters
2 Sticks salted butter
Chopped chives
Instructions
Fill a large stockpot with water 2 inches high and bring to a boil.
Place the lobsters in the pot, cover and cook for 5 minutes.
Remove lobsters and take the meat out of the tail and claws, trying to keep it all in one piece if possible.
Meanwhile, melt the butter in a sauce pan. When the butter is almost melted, add the lobster pieces and simmer for 3 minutes. Turn all the lobster pieces over and simmer for 2 more minutes.
Remove the lobster and serve with a drizzle of the butter. Sprinkle with chives.