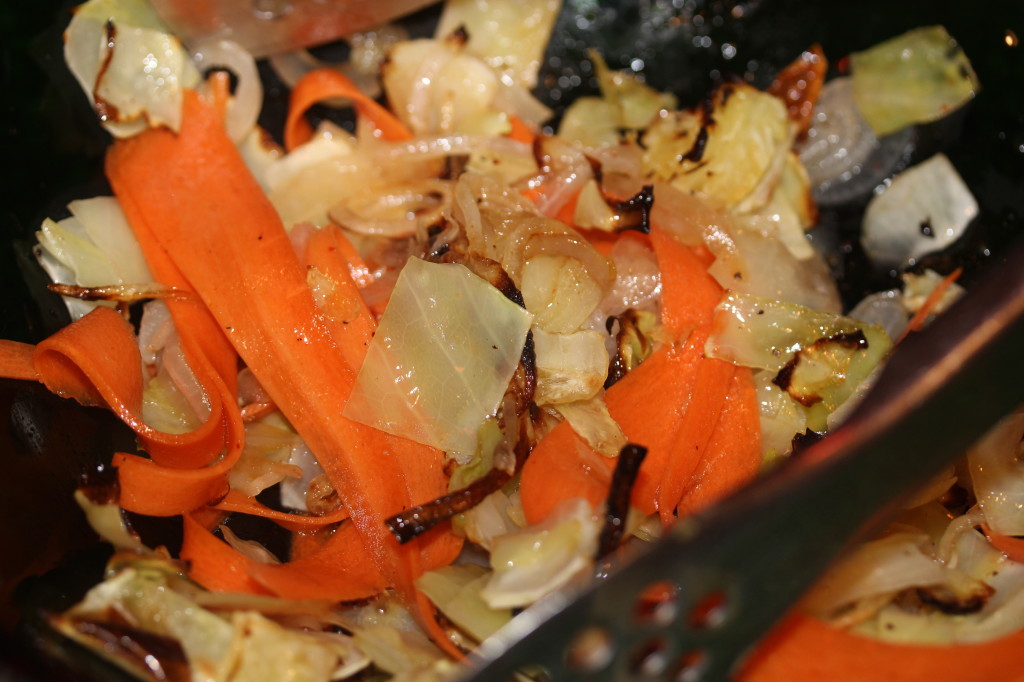 I don't know about you, but I am always looking for new veggie side dishes that taste delicious.  I mean, it's one thing to eat veggies because you know they are good for you and quite another to eat them because they taste amazing.  I made this last night with steak that I was broiling, so I pre-cooked the cabbage and had it on the stove (putting it back in to warm up while steak was resting).  Well, while the roasted cabbage and onion mixture was sitting on top of the stove, I could not stop "tasting" it.  Let's just say it's a good thing the skirt steak cooked fast or there may not have been any cabbage left come dinner.
You can just roast the cabbage with the onions and serve it like that if you want to skip the carrots.  The carrots with the hot pepper, soy & vinegar do add a great taste.

Roast Cabbage with Carrots
Author:
Adapted from Keith Schroeder
Prep time:
Cook time:
Total time:
Ingredients
½ Large Green Cabbage, cored and cut into cubes (cubes will start to fall apart)
½ Large Onion, sliced
2 Tsp Canola Oil
½ Tsp Sugar
1 Carrot, peeled and sliced into ribbons
1 Tbsp Rice wine vinegar or Cider vinegar
Dash of hot sauce (optional)
Dash of soy sauce
Instructions
Heat oven to 425.
On a cookie sheet, add the cabbage, onions, oil, sugar and toss together well with salt & pepper. Roast in the oven for about 20 minutes until the cabbage and onions start to carmelize. Stir once while cooking.
Meanwhile, in a large bowl, add the carrots, vinegar, hot sauce and soy sauce. Mix well.
When the cabbage mixture is done, add to the bowl with the carrot mixture, toss and season with salt & pepper if needed.