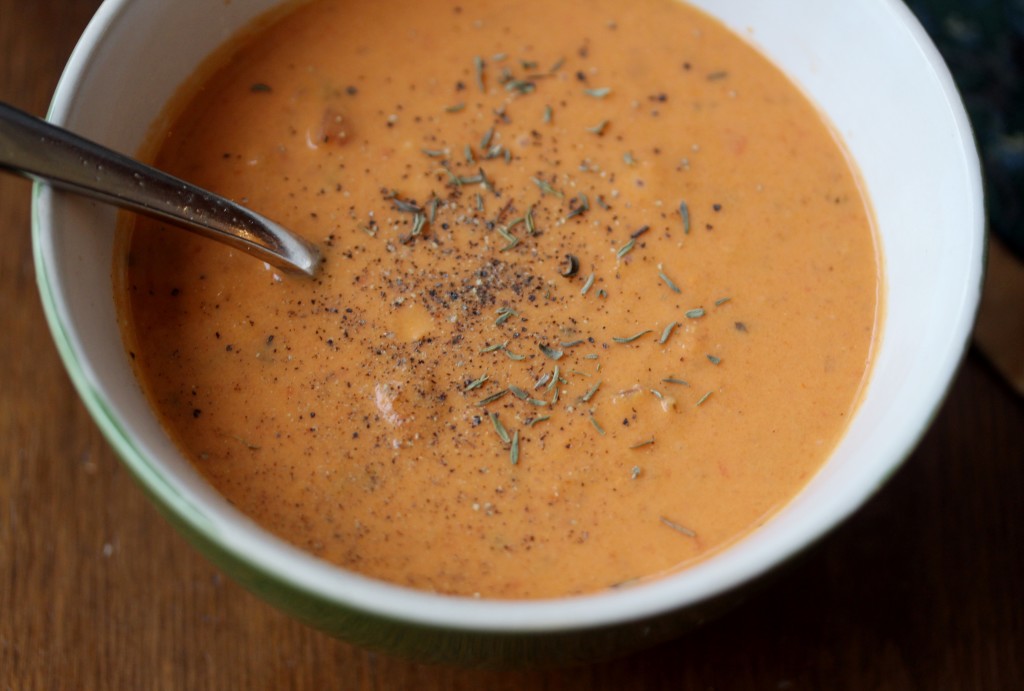 I love tomato soup.  The perfect bowl of cream of tomato soup is just so comforting and delicious.  I'm not talking Campbell's here people, I'm talking homemade deliciousness.  I have tried a lot of tomato soup recipes over the years, to get that perfect bowl that you can find at a really good restaurant and have never quite found the recipe, until I stumbled upon this one on Pinterest from Saveur.
Finally after years of searching, the perfect cream of tomato soup recipe.  Look no further.  This is the one and only recipe I will use.  Don't swap out the heavy cream, it's really not that much for a whole pot of soup and the richness is so worth it!

Cream of Tomato Soup
Author:
Adapted from Saveur
Prep time:
Cook time:
Total time:
Ingredients
4 slices thick-cut bacon, finely chopped
2 tbsp. unsalted butter
4 cloves garlic, finely chopped
1 medium yellow onion, finely chopped
1 medium carrot, finely chopped
3 tbsp. tomato paste
1 tbsp. flour
4 cups chicken stock
2 sprigs thyme
1 bay leaf
1 (15-oz.) can whole, peeled tomatoes in juice, crushed by hand
¼ cup heavy cream
Kosher salt and freshly ground black pepper, to taste
Instructions
Heat a stock pan, add the bacon and cook until crisp. Remove the bacon.
To the bacon fat, add the butter, onions and carrots. Season with salt and pepper. Cook for 5 minutes.
Add the garlic and cook for 5 more minutes.
Add the tomato paste and cook for 3 minutes, stirring frequently. You want it to carmelize but watch that it does not get too dark.
Add the flour and cook for 2 minutes, stirring well.
Add the stock, thyme, bay leaf and tomatoes. Simmer for 30 minutes.
Add the bacon back into the pan. Taste for seasoning.
With an immersion blender, blend the soup until smooth and creamy (you can blend in a blender if you don't have an immersion blender).
Add the cream, stir well and taste for seasoning.