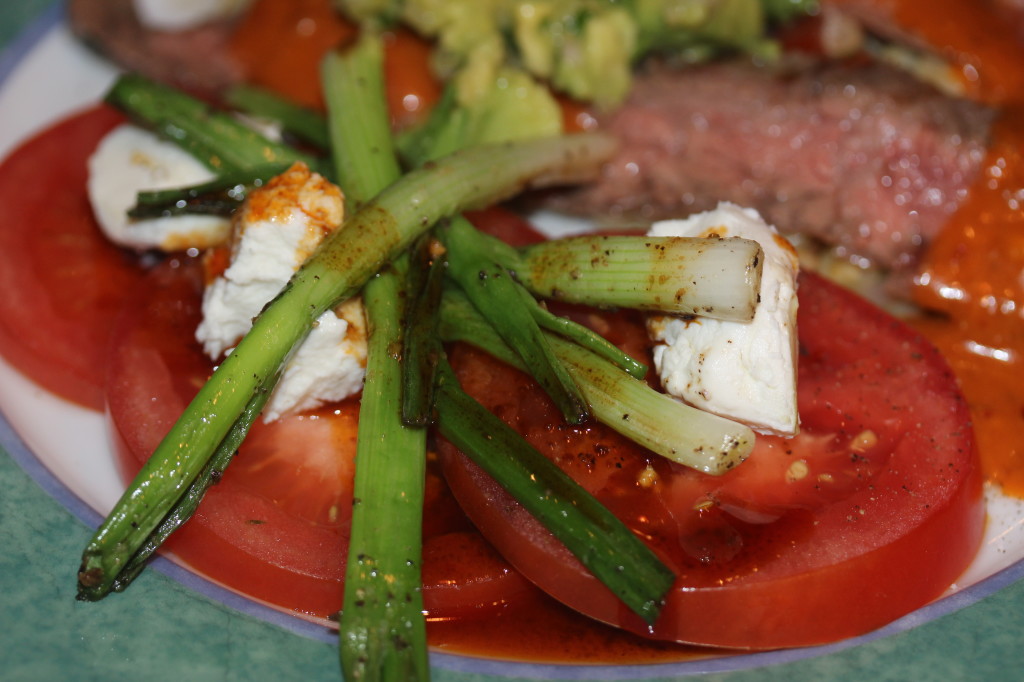 It is Jan 5th, everyone is back to work and it's "clean eating", "low cal", full on "salad season"!  Here is a new one to try.  This is a great side dish to serve with fish, chicken or a lean steak.  The goat cheese adds a little richness and a little goes a long way.  You only need a drizzle of the dressing but the heat of the chiles adds a lot of flavor.  Give this one a try!

Tomato Salad with Ancho Dressing
Prep time:
Cook time:
Total time:
Ingredients
¾ cup canola oil
2 dried ancho chiles, stemmed and seeded
2 garlic cloves, cut in half
¼ cup sherry vinegar
2 Tbsp balsamic vinegar
8 scallions, roots removed
2 large tomatoes, sliced thick
2 oz. goat cheese
Instructions
Heat the oil in a saute pan. When it is warm, add the chiles and garlic. Cook for 1 minute.
Cool for 5 minutes and then add the oil, chiles and garlic to a blender jar. Add the sherry vinegar and the balsamic vinegar. Season with salt & pepper and process until smooth. If it is a little too hot, add a little more balsamic to balance it out.
Meanwhile, arrange the tomatoes on 2 plates. Season with salt & pepper.
Return the pan to the heat, add a touch of oil and then add the scallions. Season with salt and pepper and cook for 3 minutes, until it starts to color.
Add the scallions on top of the tomatoes, sprinkle with goat cheese and then drizzle with the dressing.