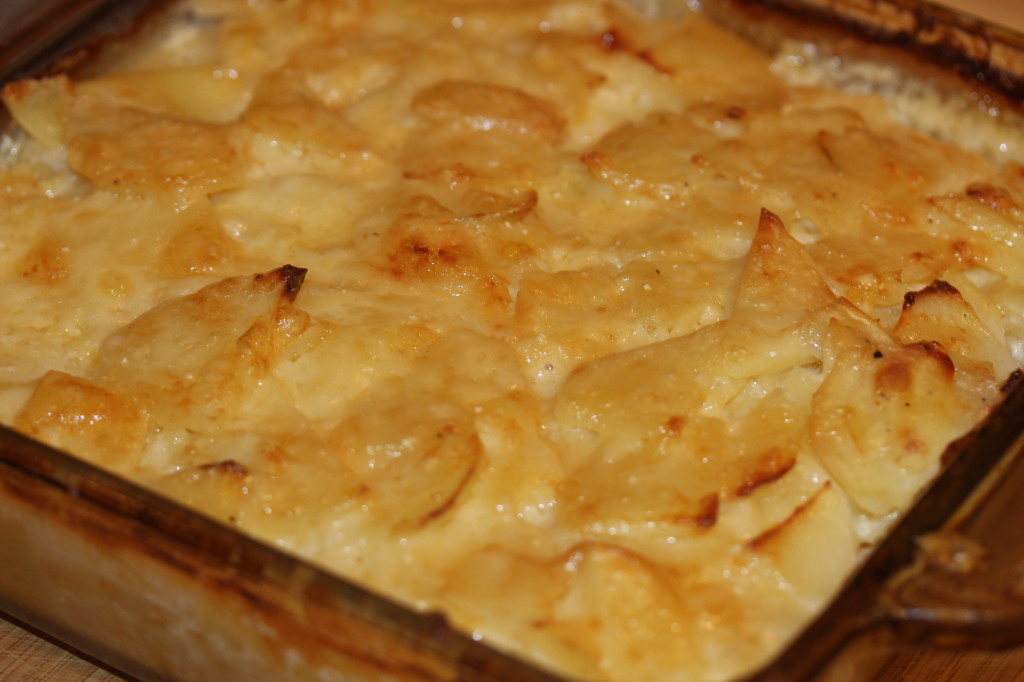 Potatoes + Milk + Cheese = Heaven?  I think that's all I have to write on this post.  Looking for a delicious elegant side dish?  You found it.  It takes a while to cook but it all hands off and the end result is fantastic.  I always use just milk.  I've made this with swiss and with Gruyère and they are both fantastic.  Enjoy!

Potato Gratin
Prep time:
Cook time:
Total time:
Ingredients
3 pounds Yukon gold potatoes, peeled and cut into very thin slices
1 teaspoon salt
½ teaspoon black pepper
6 garlic cloves, finely chopped
3 cups shredded Swiss cheese or Gruyère
3 cups milk or ½ cup each milk and whipping cream
Instructions
Heat oven to 375.
Spray a 9X13 baking dish with cooking spray.
Add the garlic and potatoes to a large bowl, season with salt & pepper and mix well.
Add ⅓ of the potatoes to the dish. Add ⅓ of the cheese to the dish.
Add ⅓ of the potatoes to the dish. Add ⅓ of the cheese to the dish.
Add the remaining potatoes and pour the milk over.
Take potatoes out of the oven, remove foil and add the remaining cheese to the top. Bake in the oven for 15-20 more minutes until the top of the gratin is browned and potatoes are all cooked through. If top is browned but potatoes are not soft enough, put the foil back on and continue to bake until cooked thru.
Rest for 15-20 minutes before slicing and serving.
Place foil on top and bake in the oven for 1 hour.