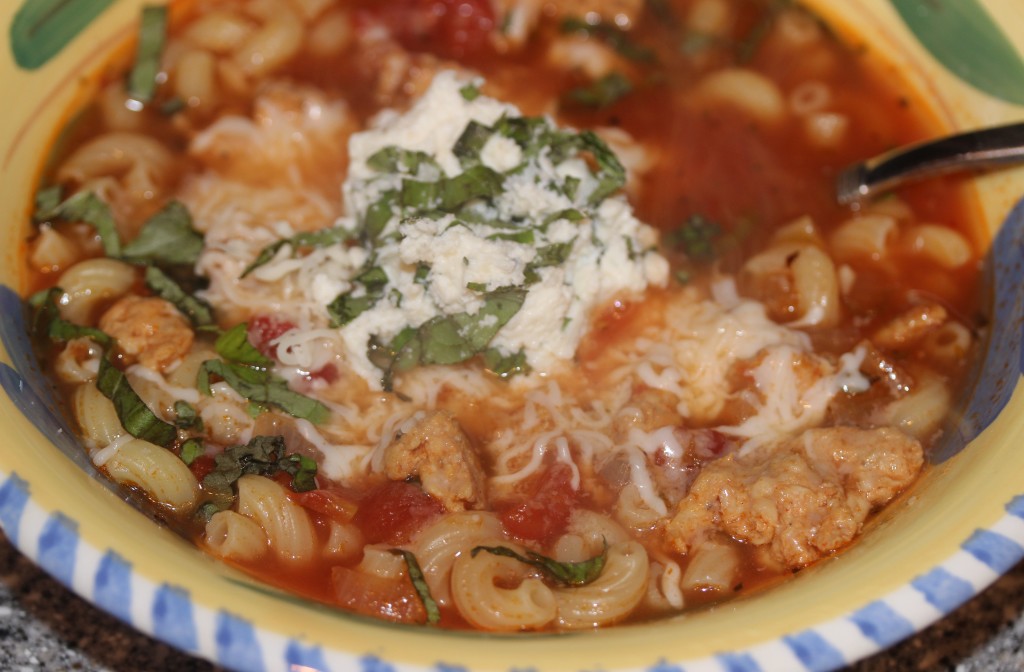 OMG I think I have a new favorite soup.  I got this recipe from a new favorite blog, Damn Delicious.  I've made a couple of things so far and the recipes rock.  Go to this site and you will see lots of great looking recipes!
The must have is the dollop of the ricotta mixture on top.  You don't need a lot (and I used skim ricotta to save some calories) but the ricotta melting on top of the soup is pure heaven.  Must try!

Lasagna Soup
Prep time:
Cook time:
Total time:
Ingredients
8 ounces elbows pasta
1 tablespoon olive oil
1 pound Italian hot or spicy chicken sausage, casing removed
3 cloves garlic, minced
1 onion, diced
2 teaspoons oregano
½ teaspoon crushed red pepper flakes
2 tablespoons tomato paste
6 cups chicken stock
1 (28-ounce) can fire roasted diced tomatoes
2 bay leaves
Kosher salt and freshly ground black pepper, to taste
1 cup shredded mozzarella cheese
¼ cup fresh basil leaves, chiffonade
8 ounces ricotta
½ cup grated Parmesan
Instructions
Cook pasta until al dente, drain and set aside.
Mix ricotta, parmesan, add a little of the basil and season with salt & pepper.
Heat a dutch oven to high, add the olive oil and the sausage to the pan. Cook the sausage for 5-8 minutes until it starts to brown, breaking it up into smaller pieces.
Add the onions and garlic and cook for three minutes. Add the tomato paste, stir well, allowing it to cook for 2 minutes. Add the oregano and crushed red pepper, mix well and season with salt & pepper.
Add the chicken stock, tomatoes and bay leaves. Season to taste, bring to a boil and simmer for 20-30 minutes.
To serve, put some pasta in a bowl, ladle with the soup, sprinkle some mozzarella over and add a good dollop of the ricotta mixture and a sprinkle of basil.