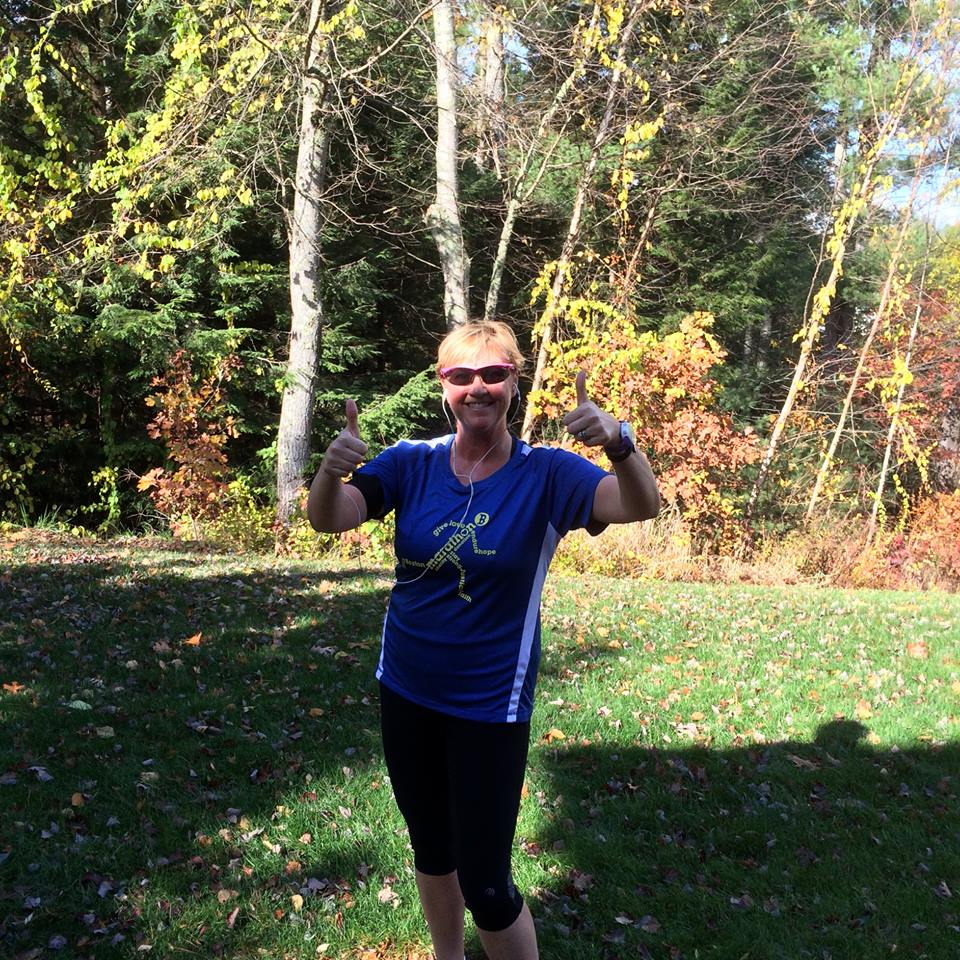 That's me on October 30, 2014, having just finished my last run on my quest to run 100 miles in October.  I did it!  I ran 104.6 miles in October.  During that whole month and for probably the last year, I've been running with osteoarthritis in both of my knees.
I've been a runner for 9 years.  I've done (16) half marathons,  (2)16 mile runs,  (10) 5K's, (3) 10K's and (14) triathlons (from Sprints to Half Ironman).  I love racing.  There's nothing like signing up for a race, printing out the training plan, and crossing off the workouts one by one.  I can't imagine giving that up.
A year ago, I started having pain in my knees here or there a day or so after I ran.  Sometimes the pain will occur after a bike ride, but usually a day or 2 after a run.  I must have injured myself.  I took a few weeks off from running and just walked and did some strength training, then returned to running but the nagging pain would come back again.  Might be fine for a few days but all of a sudden, walking up and down stairs, ow!  Getting up first thing in the morning stiff and just recently, the crack, pop sounds when my knee bends (awesome! NOT).
I went to the Doctor and she said she thought it was runners knee, RICE.  Did that.  Went to PT and my hips are weak, need to strengthen them, did that.  Did everything I was told but the pain would still come and go.  I knew in my gut it was arthritis.  I have a lot of family history and the symptoms matched up.  At my annual physical, I mentioned I think I have arthritis, this knee pain is not going away, so she ordered some x-rays and I would know for sure if that's what it is.
So, yes, yesterday I got the call.  Results show osteoarthritis in both knees.  Walking is good for this and take ibuprofen as needed.
Bummer!  I need to be able to run still.  I know I am past the time of hitting PR's, I need to take it easy.  There has to be a way I can control this enough so I can still run.  I searched all over to find blogs of real runners like me, that have gotten this diagnosis, figured it out and are still happily running.  I haven't been able to find one :(.  So, I will just have to be that person!
I know what I need to do.  Need to lose 5 more pounds.  Need to run only when there is no pain (I have been doing this!)  Need to strength train consistently (am good with this during off season and then as soon as I start the triathlon training, I um sort of blow it off, can't do that anymore!).  Need to love the foam roller (ok, I have not been good at this).  Need to stretch (do it sometimes!).
So, it's November 13th.  I am on my second week of P90X3, which is a 6-7 day a week total body workout, lots of strength, stretch and cardio.  Based on what I have been reading I should do, I think this fits perfectly and covers all the bases.  I am also running 3-4 days a week and walking.  I will keep a few walk breaks in my runs and run at an easy pace as I've been doing.
I have a few fun holiday 5K's coming up that I am doing so I will check back in at the end of the month.  I'm going to keep track of pain every day and will be able to report how the knees are and what I'm doing.  Hoping to see a pattern emerge and then I can tweak my schedule based on that.