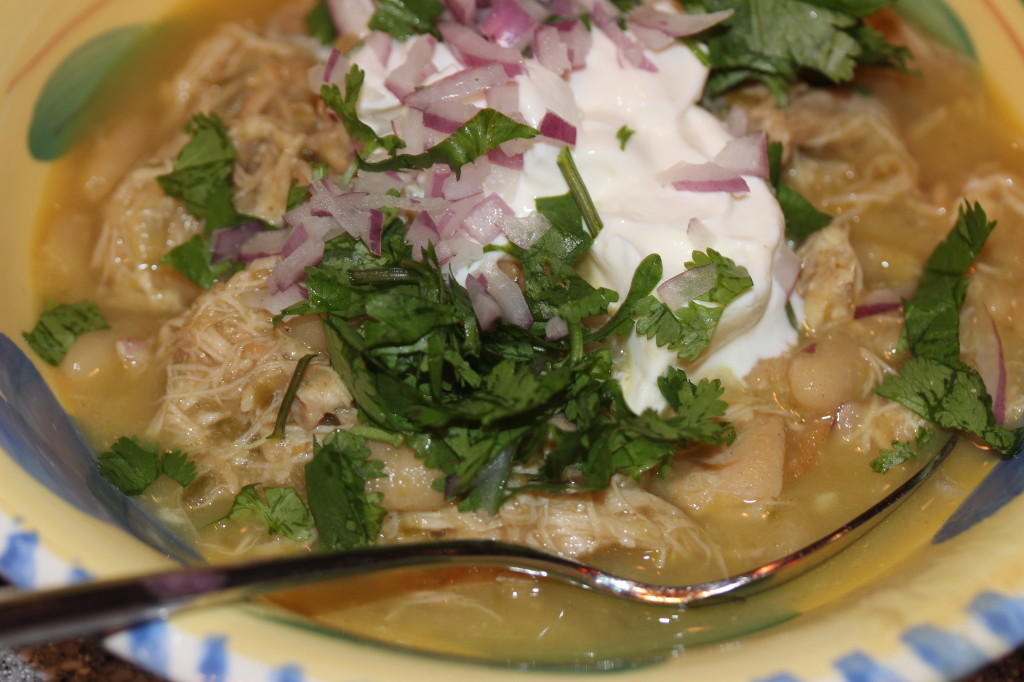 This is one of the very first recipes I ever made from the Pioneer Woman cooks.  Chili is comfort food for the winter and a white chili with chicken is just the ticket when you are looking for something different.  I add extra jarred jalapenos as I really like the heat.  I would suggest if you are making it for the first time to add only a small amount at first, let it cook for a while and taste it, then add more if you think it needs it.
The original recipe has you poach a whole chicken, I just use chicken thighs and by browning them first in the same pot, all those delicious chicken bits add a great flavor to the chili right away.  I like to season the chicken with Adobo.  If you've never used Adobo, add it to your spice rack.  It adds great flavor to chicken and pork!
Last, if you would rather use chicken breast, that is fine, cook the same way but remove the chicken 30 minutes into the cooking process.  Cool the chicken breast, shred it and then add it back in when you add the Masa.  If you cook the chicken breast the whole time, it will get really dry.

White Chicken Chili
Prep time:
Cook time:
Total time:
Ingredients
8 Boneless, skinless chicken thighs, seasoned with Adobe
1 Tbsp Olive oil
1 whole Medium Onion, Diced
4 cloves Garlic, Minced
2 whole Cans Green Chilies, Chopped
2-3 Tbsp jarred jalapeno peppers, chopped fine (optional)
1 pound Dried Great Northern or Cannelini Beans Rinsed
8 cups Chicken Broth
1 whole Jalapeno, diced fine
1-1/2 Tablespoon Ground Cumin
½ teaspoon Paprika
½ teaspoon Cayenne Pepper
1 cup Skim Milk
2 Tablespoons Masa (corn Flour) OR Cornmeal
Grated Monterey Jack, To Taste
Sour Cream for garnish
Cilantro for garnish
Finely chopped red onion for garnish
Instructions
Heat a dutch oven pan on high.
Season the chicken all over with Adobe seasoning. Add the oil to the pan and then add the chicken.
Cook the chicken (you may have to cook in 2 batches) for 5 minutes, until it turns golden. Flip and cook for 4 more minutes. Remove the chicken to a bowl.
Add the onions to the pan. Cook for 4 minutes, scraping the bottom to mix in all of the chicken brown bits. Season with salt & pepper.
Add the garlic, chiles and jalapenos and cook for 2 minutes.
Add the beans, chicken & any juices, chicken broth, cumin, paprika & cayenne pepper to pan. Mix well. Place the lid on the pot and cook on low for 2 hours. Alternatively, you could move the chili to a crockpot and cook on high for 6-8 hours.
Remove any chicken that is still in large pieces and shred. Return to pot. Add the masa & milk to a bowl, stir well and then add the masa mixture back into the pot and cook for 15 more minutes.
Serve with your favorite fixings.
Can be frozen up to 2 months.