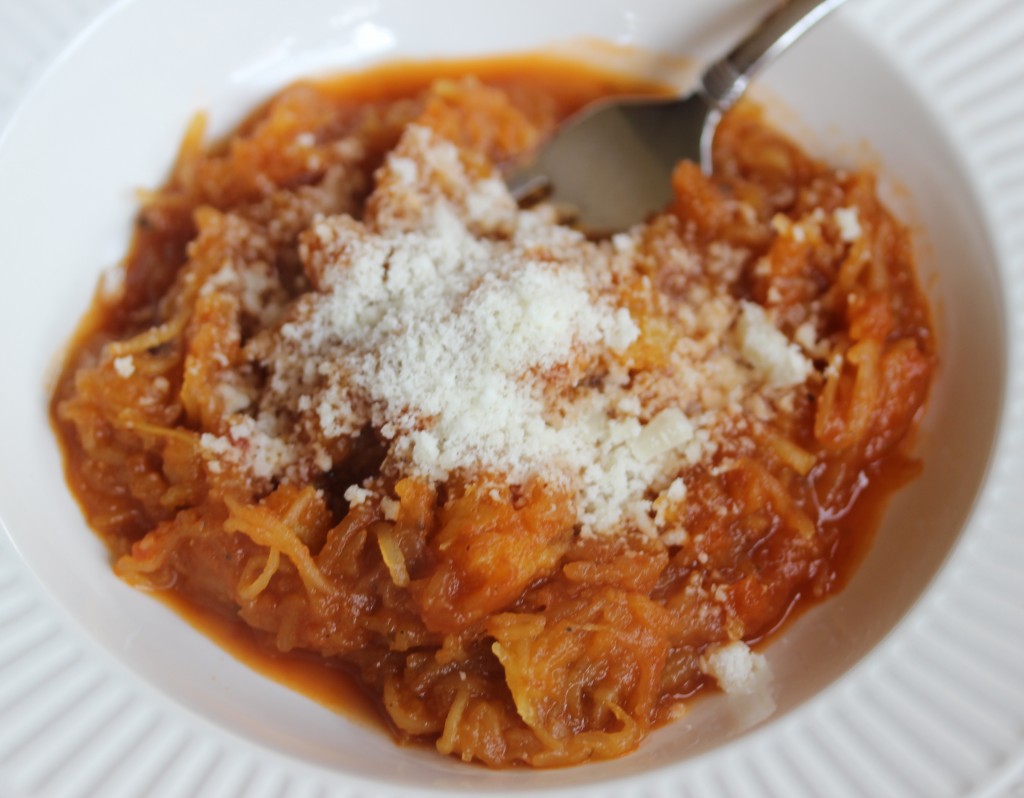 Looking for a tasty, healthy side dish that you haven't made 1,000 times before?  Here you go!  I made this for the first time this week, cooked the squash in the morning and finished it at lunch with some pan sautéed chicken that I added to the squash.  I will definitely be keeping this in the rotation!  Delish

Spaghetti Squash Marinara
Prep time:
Cook time:
Total time:
Ingredients
1 Whole spaghetti squash
2 Tbsp olive oil, divided
½ cup chopped onion
1 Tbsp finely chopped garlic
2 Tsp crushed red pepper (optional)
1 Cup Marinara Sauce
Grated Romano or Parmesan cheese for serving
Instructions
Heat oven to 400.
Carefully, cut spaghetti squash in half. Remove seeds.
Drizzle squash (on flesh side, not skin) with 1 Tbsp olive oil and season with salt & pepper. Put squash on cookie sheet and roast until fully cooked, 50 minutes to 60 minutes.
Cool squash, remove any missed seeds, and now remove all the strands of squash. (Can be done ahead of time, 1-2 days, refrigerate)
Heat a non stick skillet on high. Add the remaining 1 Tbsp of olive oil.
Add the onions and crushed red pepper, if using, season with salt and pepper and cook for 5 minutes.
Add the garlic, mix well and cook for 2 minutes.
Add the squash strands, and mix well with the onion mixture, 2-3 minutes.
Add the marinara sauce and season with salt & pepper. Cook for 3 minutes until heated through.
Serve with grated cheese.