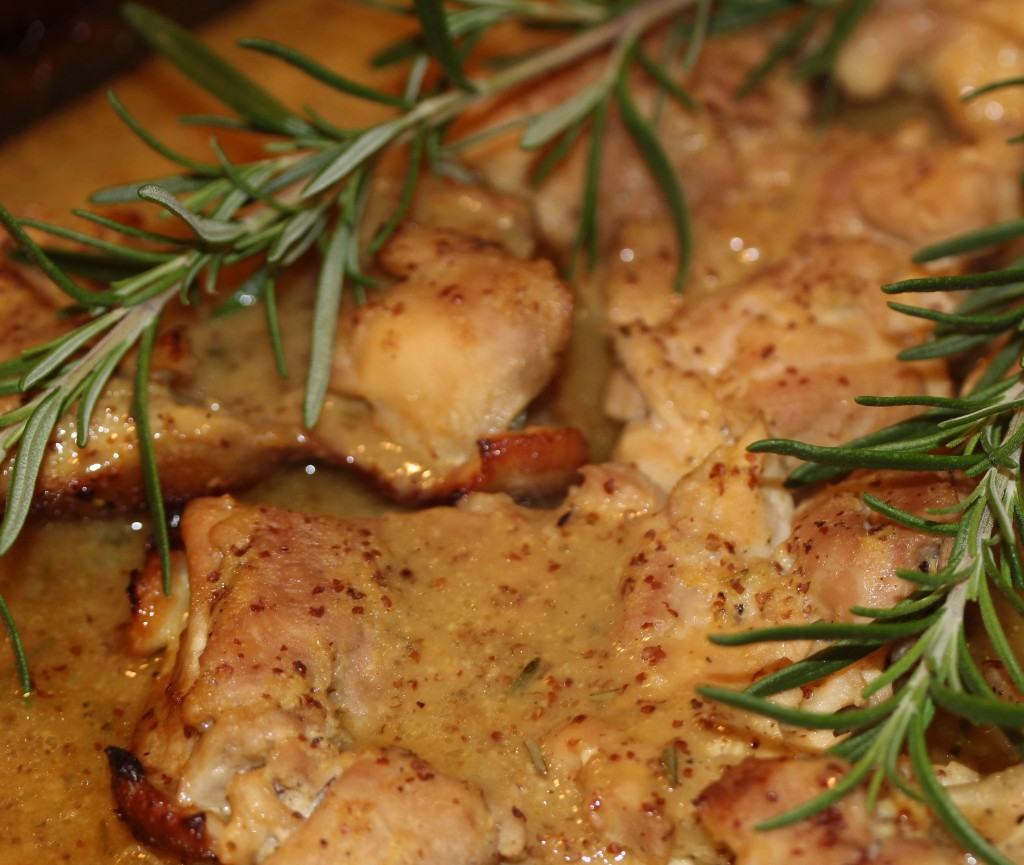 Finding new quick weeknight dinner ideas is sometimes a challenge.  I hate making the same things over and over and try to make at least 2 brand new recipes a week.  They are not always winners, but it's always great when you find a new one that the whole family agrees deserves to be added to the rotation.  This was one of those recipes!  Everyone loved it and Brian was especially crazy about the sauce!
I had some boneless chicken thighs to make for dinner last night and I was just looking around on Pinterest for ideas.  If you don't normally use Pinterest, it's a great tool.  On-line bulletin board that you can save things you like.  I have a board called "Recipes to try" and when I see something that looks good, I'll add it.  I found this Honey mustard chicken recipe there, at Damn Delicious.  I will definitely be checking this blog out more, I already saw a few things that look great.
The original recipe has you use chicken thighs with the skin and bones but I had boneless on hand and that worked fine.  If you prefer chicken breasts, you could do that too, just make sure you don't over cook them or they will be dry.

Prep time:
Cook time:
Total time:
Ingredients
8 Skinless boneless chicken thighs, seasoned with salt & pepper
1 Tbsp Olive oil
2 Tbsp Dijon mustard
2 Tbsp Ground mustard
3 Tbsp Honey
2 Tbsp Chicken broth
1 Tbsp fresh rosemary chopped fine (or 1 tsp dried rosemary)
Instructions
Heat oven to 400.
Combine the Dijon mustard, ground mustard, honey and chicken broth in a bowl. Mix well and season with salt & pepper.
Heat an oven proof skillet or dutch oven to high. Add the olive oil. Add the chicken to the pan and cook for 4 minutes, until browned. Flip over and cook for 2 more minutes.
Add the mustard mixture to the pan.
Put the pan in the oven and cook until chicken is cooked through and starting to color, 25-30 minutes.
Serve the chicken with the pan sauce.