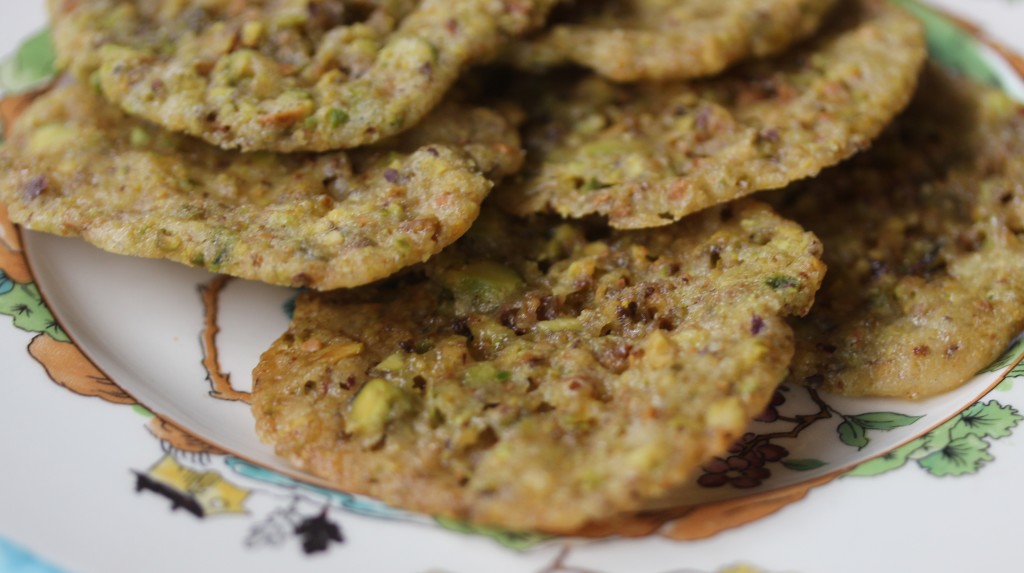 In case you haven't noticed, I am not a big baker.  I only make cookies a few times a year but I do like to have a lot of options on hand at the holidays.  These cookies are special.  Salty and sweet, they taste really light.  I like to put them on a dessert tray with strawberries dipped in chocolate and chunks of Parmesan.  You can make them ahead of time and freeze for up to 2 months!  **They won't be around for 2 months but hey  you could!

Prep time:
Cook time:
Total time:
Ingredients
1¼ cups salted shelled pistachios (not dyed red; 5½ oz)
¾ cup sugar
6 tablespoons all-purpose flour
5 tablespoons unsalted butter, melted and cooled slightly
2 tablespoons Grand Marnier or other orange-flavored liqueur
1 teaspoon finely grated fresh orange zest
2 tablespoons fresh orange juice
Instructions
Pulse pistachios and sugar in a food processor until finely chopped but not ground.
Mix pistachio mixture with remaining ingredients in a bowl.
Put dough onto parchment paper and roll into a 15 inch by 1 inch log. Roll up and chill for 3 hours.
Heat oven to 325.
Line cookie sheets with parchment paper.
Slice dough ⅛ inch slices. Flatten each cookie with the back of your hand or a spoon.
Cook for 8-10 minutes until slightly golden.
Cool for 5 minutes on the cookie sheet and then carefully remove with a metal spatula to a wire rack.
Cookies can be frozen up to 2 months.