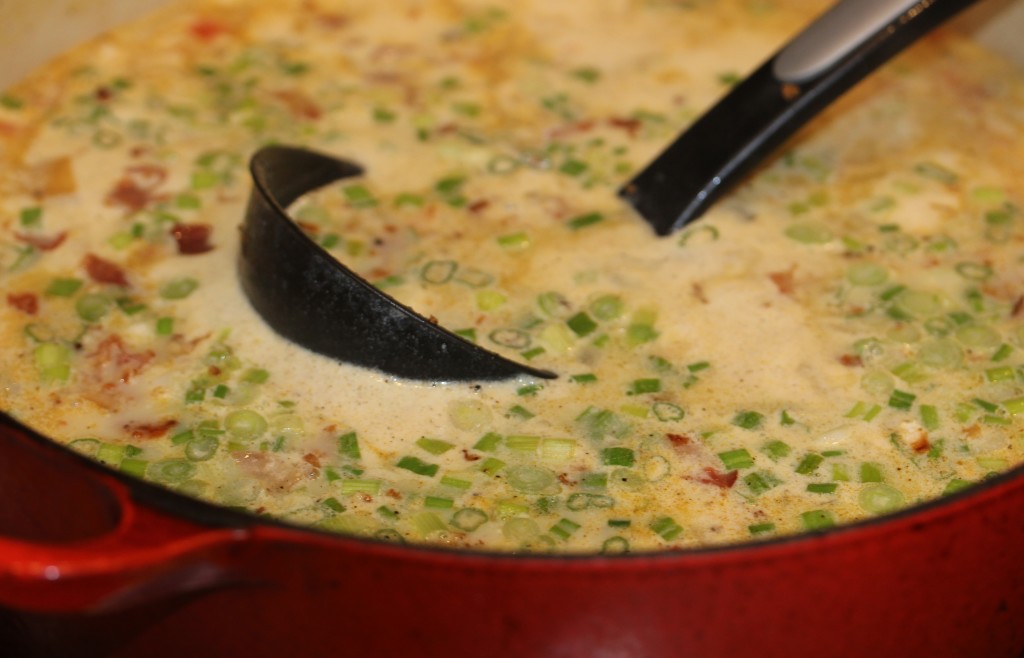 I went to my local farm Sunday, Wilson's Farm in Litchfield.   They still had some fresh corn so I had to snatch some up.  I've had it in the fridge and been trying to think of what to do with it.  I was planning on just making it as a side with dinner.
However, today is one of those rainy, raw fall days and I suddenly thought, Corn chowder for lunch would be great.  The only corn chowder recipe I've made before was with lobster and it was a bit of a production (you know those kind of recipes).  Number 1, I have no lobsters sitting in my fridge right now and Number 2, I didn't have 90 minutes to make lunch.
I was searching for recipe inspiration and came accross this recipe for Creamy Chicken Corn Chowder at Cooking Classy.  That was the inspiration I needed.  I tweaked the recipe to make it lighter and lower cal but still keep the flavors.  Here's what I did:  Decreased the butter from 1/3 cup to 1 Tbsp.  Reduced bacon from 8 slices to 4 slices of center cut bacon.  Decreased half & half from 1 1/2 cups to 1/2 cup half & half and 1 cup skim milk.  Reduced potatoes from 3 to 2.
How did I do that and still keep the flavor?  Cooked chicken breast coated in cajun seasoning.  Swapped fresh jalapeno for jarred (tons more kick!).  Cooked the onions in the tiny bit of bacon fat.  Last, added the cobs to the broth.  The cobs add a lot of flavor to the stock.
I will be going back to Cooking Classy.  Lots of great sounding recipes there!

Corn & Chicken Chowder
Author:
Adapted from Cooking Classy
Prep time:
Cook time:
Total time:
Ingredients
1 lb boneless skinless chicken breast
2 Tbsp cajun spices
4 slices bacon, center cut bacon
1 Tbsp unsalted butter
1 large red bell pepper, diced (1½ cups)
1 medium yellow onion, diced (1¼ cups)
2 Tbsp jarred jalapenos, chopped fine (reduce to 1 Tbsp if you don't like it too spicy)
4 cloves garlic, minced
⅓ cup all-purpose flour
6 cups low-sodium chicken broth
2 medium russet potatoes, peeled and diced slightly less than ½-inch thick (3 cups)
Salt and freshly ground black pepper, to taste
2½ cups fresh or frozen corn. If using fresh, reserve cobs to add to chowder
1 cup skim milk
½ cups half and half
Green onions (optional), for serving
Instructions
Heat oven to 400.
Spray a cookie sheet with cooking spray. Season chicken breasts all over with cajun spices and salt & pepper. Cook chicken in oven until cooked through, turning half way, approximately 25-30 minutes. Let chicken cool and once cool, chop into bite size pieces.
Meanwhile, spray a dutch oven with cooking spray. Heat on high, add the bacon. Reduce heat to medium low and cook bacon until crispy. Remove bacon and chop fine. Leave bacon fat in pan.
To the same dutch oven, add the butter. When butter is melted, add the onions, peppers and jalapenos. Cook for 3 minutes. Add the garlic, stir well and season with salt and pepper. Cook for 2 minutes.
Add the flour, mix well for 1 minute, allowing flour to cook off a bit.
Slowly add the chicken broth, one cup at a time, stirring well to make sure the flour doesn't form into lumps.
Add the corn cobs if using. Add the potatoes and cook until tender, about 10 minutes.
Add the chicken, corn, milk and half & half. Stir well.
Cook for 10 minutes until flavors have melded. Taste for seasoning.
Serve with reserved bacon and scallions.