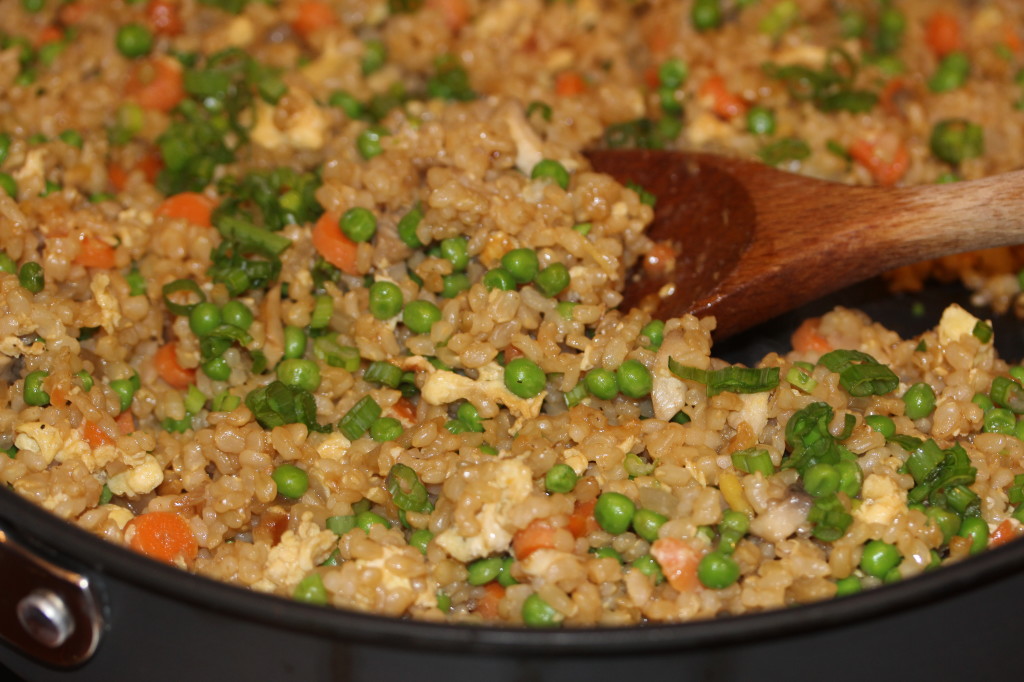 Sometimes it's fun to mix up the side dishes.  I don't know about you but during the week, mine can get a little hard to mix up.  Potatoes, rice, pasta, trying some new grains.  My biggest challenge is making something delicious, healthy, that everyone likes.  If you are a parent, the "everyone" likes can be the hardest part.
I made this fried rice first a few weeks ago with white rice.  Everyone loved it!  I made it again last night with brown rice (which I preferred) and Brian was not impressed.  He said "Mom, it doesn't taste as good as before".  I said "I used some different spices".  He was not fooled.  Oh well.
The leftovers heat up great and I like to do a quick lunch stir fry of chicken or shrimp with whatever veggies I have on hand and then add a half cup of the leftover fried rice to the stir fry.  Will loves the leftovers for breakfast, lol.
You can easily half the recipe.

Fried Rice
Prep time:
Cook time:
Total time:
Ingredients
1 Tbsp Canola oil
½ Onion chopped
1 Carrot chopped
1 Cup chopped mushrooms
1 Tbsp chopped garlic
1 Tbsp chopped ginger
2 Eggs, cracked in a bowl and beaten.
1 9 oz pacakge frozen peas
4 Cups Cooked Brown or White Rice
6 Tbsp soy sauce
2 Tbsp mirin (can substitute sherry)
2 Tbsp chopped scallions
Instructions
Heat a non stick skillet to high and add the canola oil.
Add the onions, garlic and ginger to the pan and saute for 3 minutes.
Add the mushrooms and carrots to the skillet. Season with salt and pepper and saute for 2 minutes.
Move the vegetebles to the side in the pan, add the eggs and scramble quickly. Once the eggs are scrambled, mix the eggs into the vegtebles.
Add the rice, mirin and soy sauce, mix well and cook for 2 minutes. Season with salt & pepper.
Add the peas, mix well and cook until they are heated thru, about 5 minutes.
Add the scallions, mix well and serve.