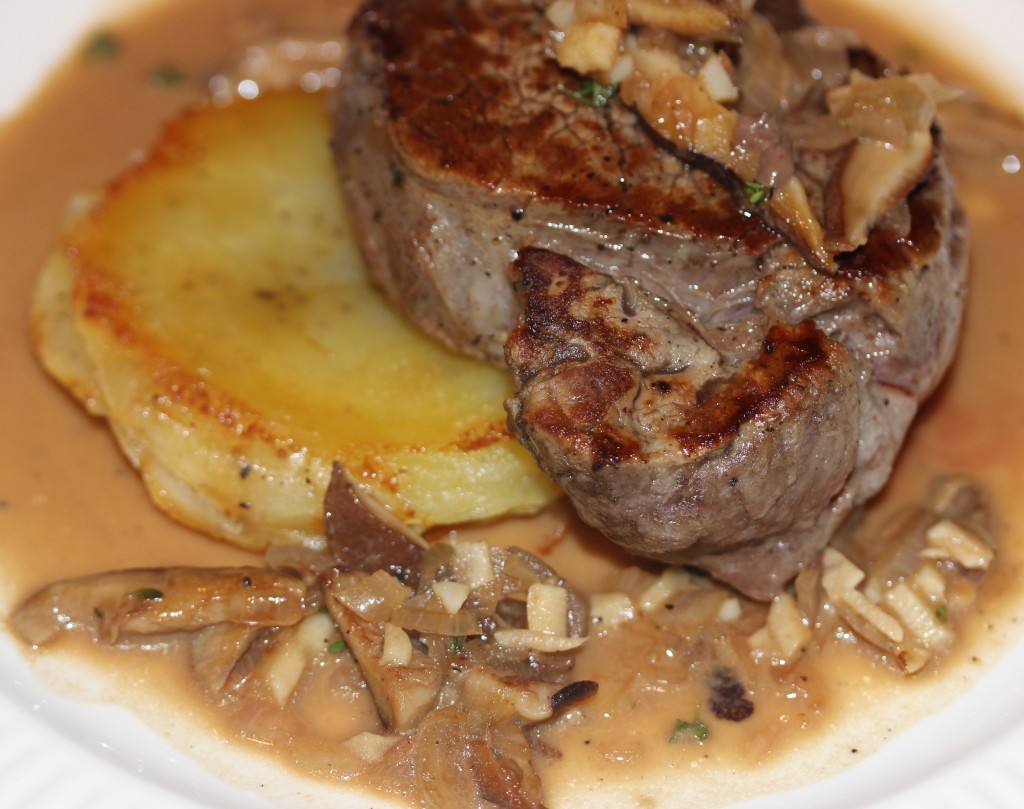 So, last night I was craving steak.  I wanted to do something different, so I went to Epicurious to see what delicious concoctions they might suggest for Filet Mignon and I came across this one.  Filet Mignon with Mushrooms and Madeira.   Wow, that sounded fantastic.  If you've never cooked with Madeira, I urge you to try.  Get the best one they have at the store.  It has a slight sweetness similar to sherry but it's more complex.  It works really well with mushrooms.
I made a couple of tweaks.  First, I swapped out the button mushrooms for shitakes, as I just like them better.  Then, it called for 3 Tbsp of butter, which I reduced to 2 Tbsp (not too bad for 4 people).  Lastly, it called for 1/2 cup heavy cream, I changed that to 1/4 cup half and half.   The sauce was complex and a little rich, perfect for the filet.
I served this with Pommes Anna and a salad.  So, so, so good!

Filet Mignon with Madeira Mushroom Sauce
Prep time:
Cook time:
Total time:
Ingredients
2 tablespoons butter
2 tablespoons olive oil
12 ounces mushrooms, thinly sliced (I like shitake but whatever you like)
½ cup minced shallots (about 3)
4 garlic cloves, minced
1 tablespoon chopped fresh thyme
4 5-ounce filet mignon steaks (each about ¾ inch thick) Season with Salt and pepper and bring to room temperature 30 minutes before cooking
½ cup Madeira
1½ cups canned beef broth
¼ cup half and half
Instructions
Heat oven to 375
In a non stick sauce pan, melt 1 Tbsp of the butter. Add 1 Tbsp of the shallots and 1 Tbsp of the garlic to the pan. Cook for one minute. Add the mushrooms. Season with salt and pepper and cook for 5 minutes. Add the thyme and cook for 4 minutes.
Remove mushroom mixture from the pan.
Add the remaining butter to the same pan on high heat. Add steaks. Cook for 4 minutes. Turn over and cook for 3 more minutes. Move steaks to a sheet pan and place in the oven for 5-7 more minutes. Remove from the oven when they are at 125. Set aside tented for at least 5 minutes to rest.
Meanwhile, add the remaining shallots and garlic to the same pan. Cook for 2 minutes.
Add the madeira to the pan, scraping up any brown bits. Simmer for 3 minutes.
Add the beef broth and the reserved mushroom mixture to the pan and simmer for 6 minutes until the sauce has reduced.
Add the half and half to the pan, mix well and season with salt & pepper. Simmer for 2 minutes until the sauce thickens slightly.