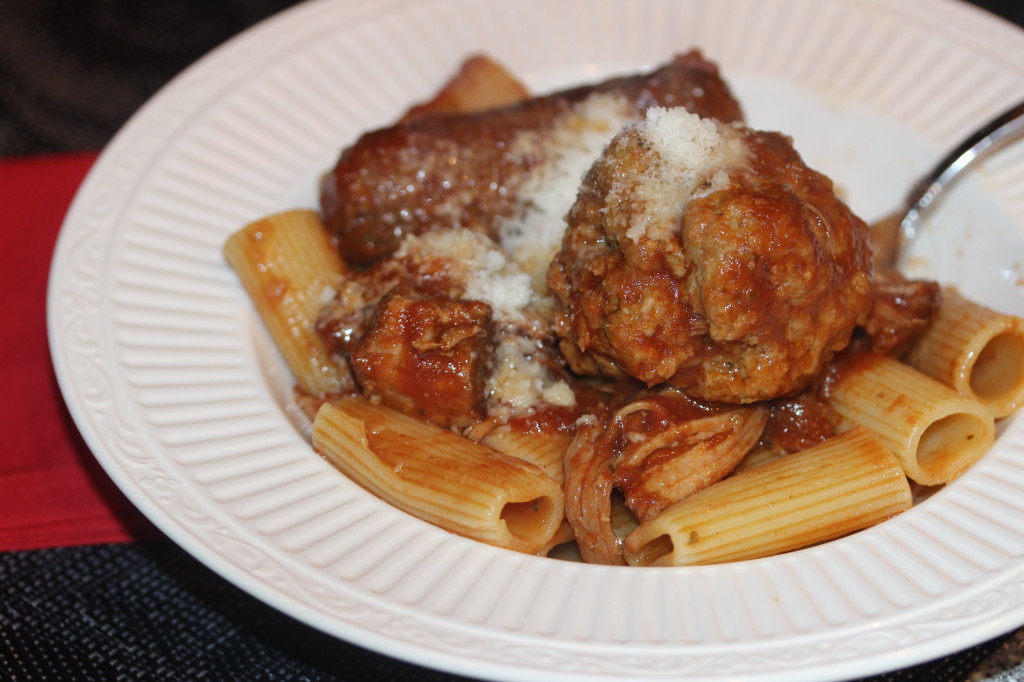 This is probably the most classic of all Italian American recipes.  You definitely want to make it on a Sunday!  I will get it going on the stove Sunday morning and then all day the kitchen smells so good from it.  The boys will ask for "tasters" all day and I will give them a ramekin with some pork and sauce a few hours before dinner.  This makes a lot and the leftovers freeze great.  You can make it in as little as 3 hours, but the longer it simmers, the better it is, so I highly recommend cooking it for 8 hours.
Serve with your favorite pasta.  I really like this with rigatoni or shells.

Sunday Gravy
Prep time:
Cook time:
Total time:
Ingredients
6 Meatballs
1 Pound Hot Italian Sausage (You could use sweet but the hot Italian adds a great flavor to the sauce)
2 Tbsp. Olive oil
3 Pounds Country Ribs with the bone (you have to have the bone!)
1 14 oz. Can Beef Broth
1 Cup Red Wine
2 Tbsp. Tomato Paste
2 Tbsp. finely chopped garlic
(4) 28 oz. Can Crushed tomatoes
Instructions
Heat olive oil in a large stock pot and cook the sausage until brown. Remove sausage and set aside in a bowl.
Add Country ribs to sauté pan and season with kosher salt & pepper.
Cook ribs for 6 minutes and turn. You want to make sure they get a golden crust before you turn them. If they aren't golden after 6 minutes, wait another few minutes until you get the golden crust. Once they are golden on both sides, remove and add to the bowl with the sausage. Be careful not to cook too hot, you don't want to burn those tasty brown bits that are going to turn your sauce magical.
Add the onions to the sauté pan and season with kosher salt and pepper. Cook for 2 minutes, scraping up the brown bits.
Add the garlic and tomato paste and stir constantly for 1 minute.
Add the red wine and stir for 3 minutes.
Add the beef broth and crushed tomatoes to the pot.
Add the sausage and ribs back to pot and simmer on low for at least 3 hours and up to 8 hours. The sauce tastes best if you simmer for 8 hours.
With an hour left to cook, add the meatballs.
With an hour left to cook, remove the ribs. Let them cool and then shred the meat, discarding the fatty bits. Add the shredded pork back to the pan.
Before serving, skim the fat from the top of the sauce. It is normal to accumulate a lot of fat.
Leftovers can be frozen up to 3 months.