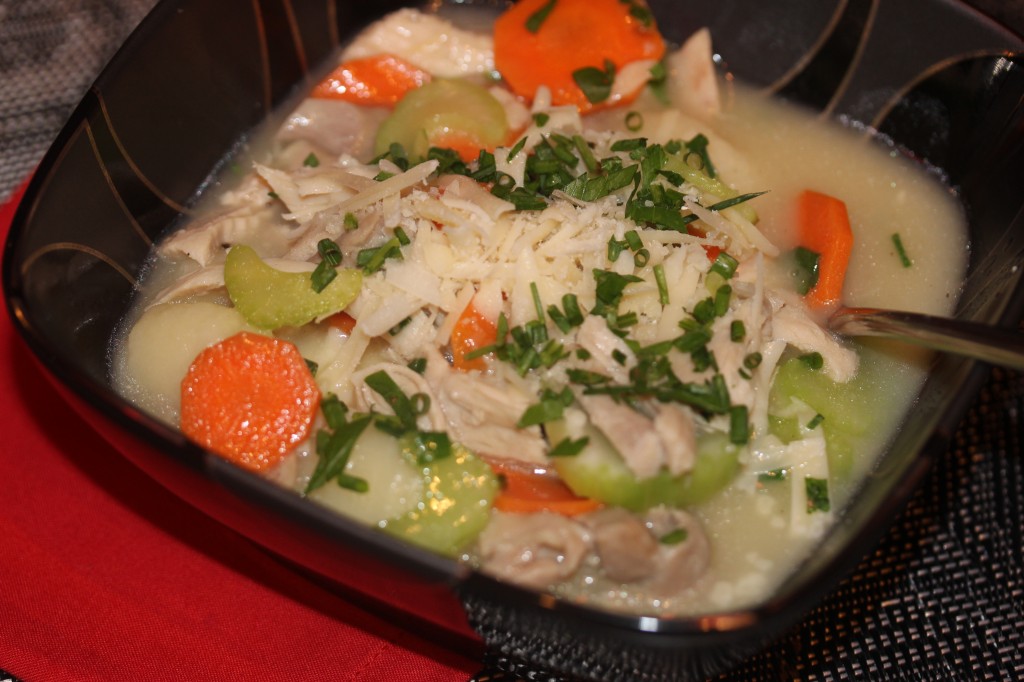 Bill is super duper crazy about this dish.  I love it because it's an elegant spin on what can be a bland "comfort food" dish.  First off, the "dumplings" are actually gnocchi.  The original recipe has you make homemade ricotta gnocchi,  but I just use these Pastene gnocchi.  By slicing the veggies very thin and cooking them only for a few minutes, they have a great crunch and the parsnips add a wonderful sweetness to the sauce.

Chicken and Dumplings
Prep time:
Cook time:
Total time:
Ingredients
•10 cups low-salt chicken broth
•2 pounds skinless, boneless chicken thighs
•1/4 cup (1/2 stick) unsalted butter
•6 tablespoons all-purpose flour
•2 celery stalks, cut crosswise into ¼"-thick slices
•1 carrot, peeled, thinly sliced
•1 parsnip, peeled, cut into ¼"-thick rounds
•1 leek, halved lengthwise, cut crosswise into ¼"-thick slices
•1/4 cup chopped flat-leaf parsley
•1/4 cup chopped fresh chives
•Kosher salt, freshly ground pepper
•Shaved Parmesan
Gnocchi
Instructions
Bring the broth to a simmer in a large pot and add the chicken. Salt and pepper to taste. Simmer chicken for 20 minutes until cooked through. Remove chicken, let it cool and shred the chicken.
Bring a large pot of water to boil, to be ready to cook the gnocchi.
Melt the butter in a saute pan. Add the flour and wisk well for 5 minutes until the roux gets a little color.
Add the roux to the chicken broth, stirring well, until the broth thickens slightly and coats a spoon.
Add the carrots, celery, leeks and parsnips to the broth and cook for 5 minutes so that they still have a little crunch. Salt and pepper to taste.
Cook the gnocchi.
Add the chicken, chives and parsley to the pan.
Serve in a bowl with gnocchi and shaved parmesan on top.