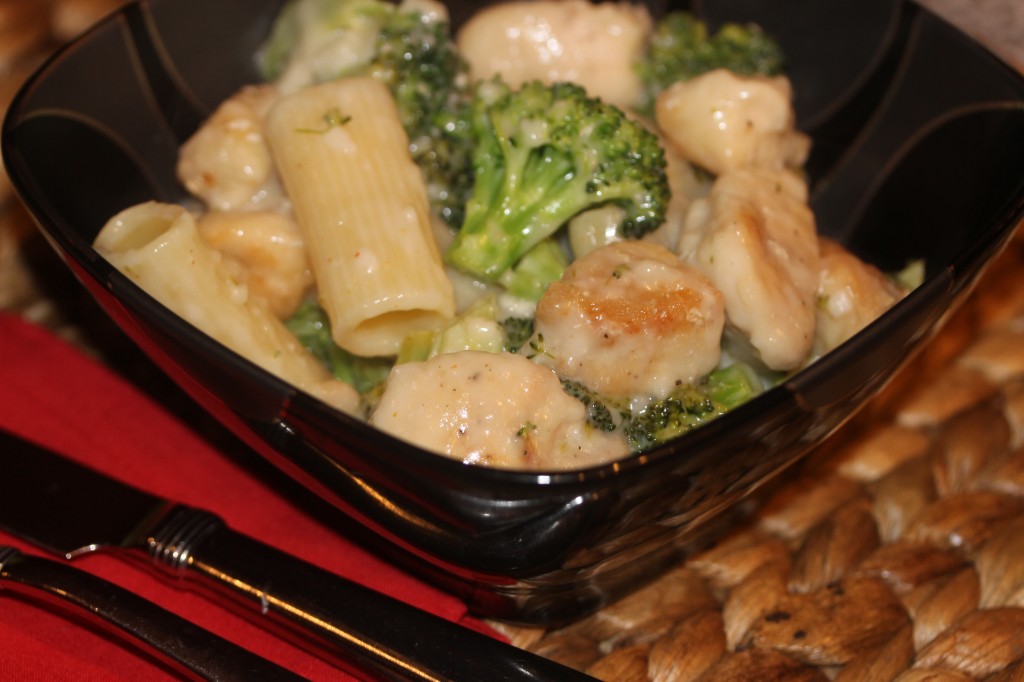 This was soooooooooo good!  I love Chicken Broccoli pasta with alfredo sauce but that is certainly a special occasion dish.  I've been working on making a healthy skinny tasty version of alfredo sauce and I finally nailed it!  Brian took one look at it last night and said "I'm not sure if I'm going to like that", let's just say I knew better and he had seconds

  Use your favorite pasta.  Add extra veggies.  Make it your own.

Chicken, Broccoli & Rigatoni
Prep time:
Cook time:
Total time:
Ingredients
3 Broccoli Crowns, chopped into bite size pieces
1 Pound of Rigatoni (or your favorite such as penne)
2 Boneless Chicken Breast
1 Cup Flour
Olive Oil
¼ cup white wine (optional)
Parmesan Cheese for serving
Instructions
Heat a large pot of water.
Cut the chicken into bite size pieces and season with salt and pepper.
Put the flour into a bowl, season with salt & pepper.
Heat a non stick skillet and add a Tbsp of olive oil.
Put the chicken into the flour mixture, turn to coat and dust off excess. Add the chicken to the pan and cook until done, 10-12 minutes, stirring halfway.
Remove chicken and keep warm.
Meanwhile, cook the pasta until al dente, reserving 1 cup of pasta water at the end.
Add broccoli to the pan that the chicken was cooked in, cook the broccoli on medium. Add a touch more olive oil is needed. Season the broccoli with salt and pepper and cook for 5 minutes.
If using the wine, add to the broccoli, stir well and for 2 minutes until the wine has been reduced.
Add the chicken back to the pan with the broccoli.
When pasta is done, add the pasta to the pan. Add ½ cup of the reserved pasta water to the pan.
Add the Alfredo sauce and mix the pasta on low heat well until everything has been incorporated. If the sauce is too thick, add some more pasta water.
Taste for seasoning.