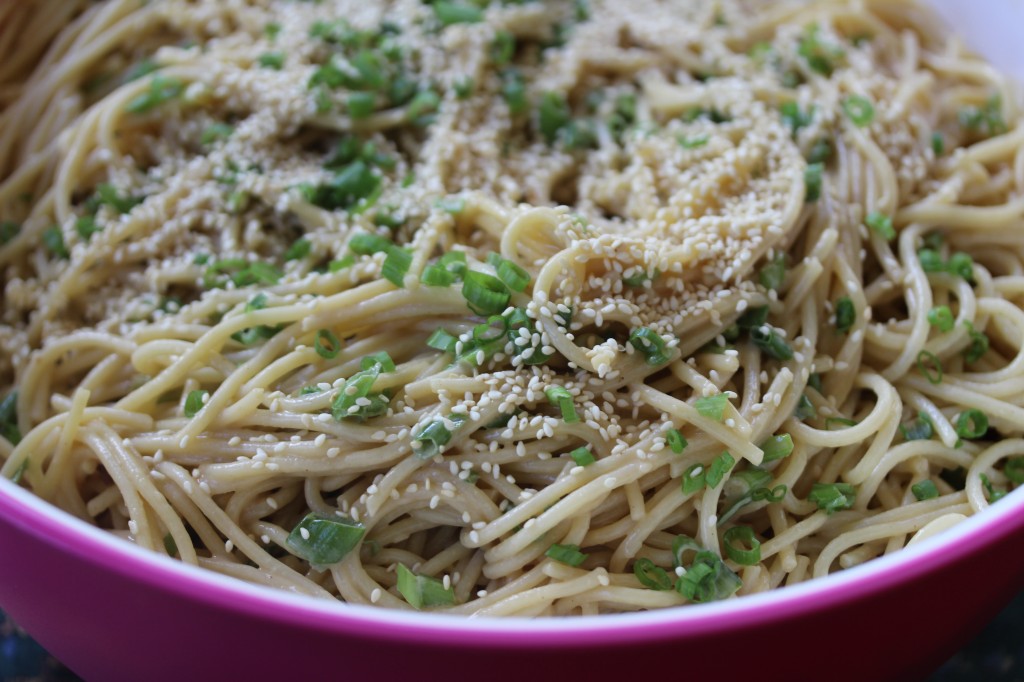 I had a cookout yesterday and I was looking for a different side dish when I came across this recipe at Epicurious.  I absolutely loved it.  Changed it a little based on reviews at the site, decreased the vinegar and doubled the amount of dressing.   The secret to this super flavorful dressing is the tahini.  I had never used tahini before.  It is sesame paste, think peanut butter but made with sesame seeds.  The dressing would be great on a salad or on top of grilled chicken.  I'm definitely putting this in the rotation!

Sesame Noodles
Author:
Adapted from Bon Appetit
Prep time:
Cook time:
Total time:
Ingredients
•8 scallions, whites and greens separated, thinly sliced
•1/2 cup canola oil
•2 tablespoon crushed red pepper flakes
•2 teaspoons sesame seeds
•12 ounces thin ramen noodles or spaghettini
•Kosher salt
•1/2 cup tahini (sesame seed paste)
•1/4 cup unseasoned rice vinegar
•6 tablespoons reduced-sodium soy sauce
•4 teaspoons toasted sesame oil
•2 teaspoon sugar
Instructions
Prepare the chili oil: In a saute pan, add the scallion whites, oil, sesame seeds and crushed red pepper. Saute for 10 minutes.
Meanwhile, cook the noodles until al dente, drain and rinse with cold water.
In a bowl, add the tahini (it likely is separated, so stir well first), vinegar, soy sauce, sesame oil, sugar and 3 Tbsp of the chili oil. Season with salt. Mix well and taste, you may want to add a little more sugar, vinegar, etc. for your taste.
Mix the dressing into a large bowl with the noodles. Add the scallions and mix well.
Garnish with sesame seeds.
Note: Best served at room temperature, so if making ahead, bring to room temperature before serving.