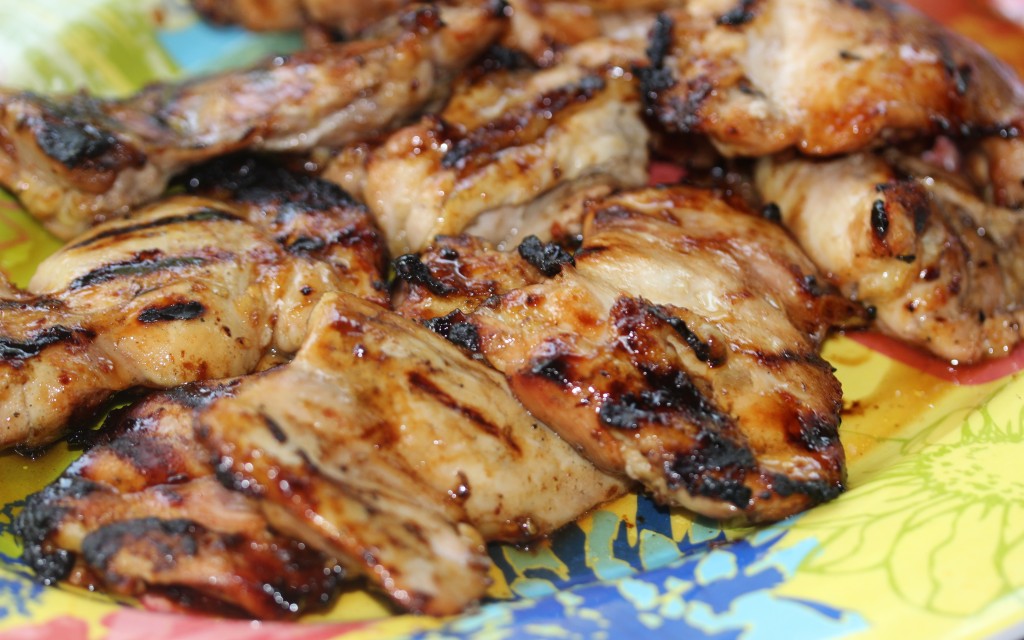 This is a super quick, easy delicious grilled chicken recipe.  Would also be great on pork tenderloin.  Warning:  The chicken grilled is not that spicy but the reduced marinade sauce is super spicy, so use sparingly!  My boys will just eat the chicken by itself and I (of course!) will add extra sauce

Sambal Grilled Chicken
Prep time:
Cook time:
Total time:
Ingredients
•1/2 cup (packed) light brown sugar
•1/2 cup unseasoned rice vinegar
•1/3 cup hot chili paste (such as sambal oelek)
•1/4 cup fish sauce (such as nam pla or nuoc nam)
•1/4 cup Sriracha
•2 teaspoons finely grated peeled ginger
•1½ pounds skinless, boneless chicken thighs
Instructions
In a bowl, put brown sugar thru ginger and mix well.
Add chicken thighs and marinade to a ziplock bag . Marinate at least 2 hours and up to one day.
Bring chicken to room temperature 30 minutes before cooking.
Heat grill to high. Add chicken, reserving marinade. Grill chicken until cooked thru about 10 minutes, turning once.
Meanwhile, bring reserved marinade to a boil in a small pan. Turn heat to low and simmer for 5 minutes.
Serve chicken with the reduced marinade sauce.