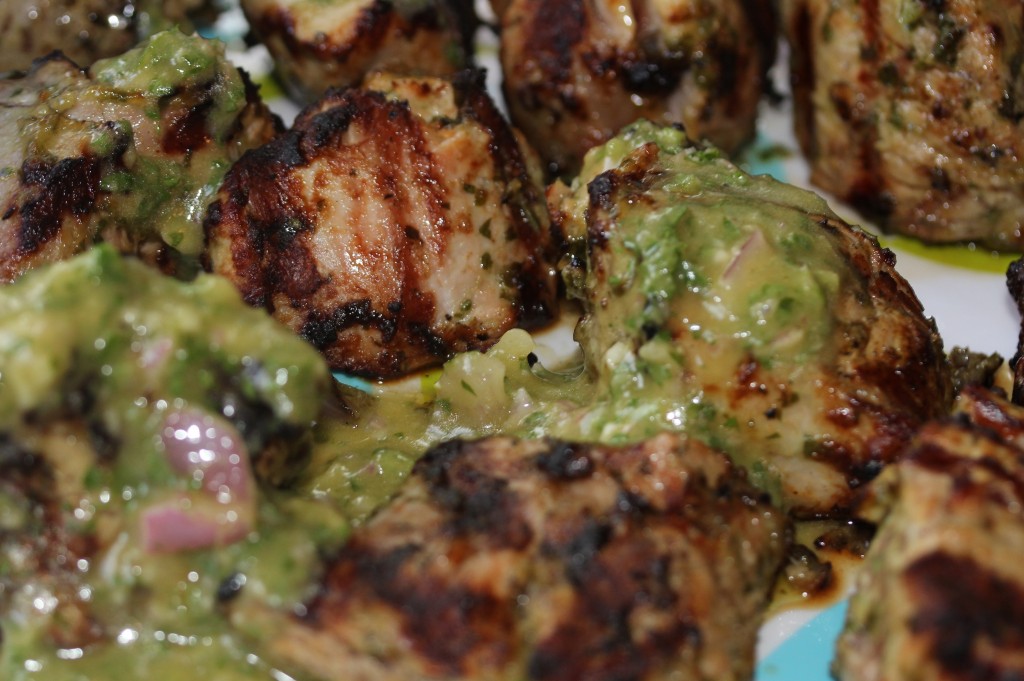 Chimichurri Sauce is a parsley, garlic herb sauce that is served with beef in Argentina.  It's usually used to both marinate the meat and then on the side as a sauce with the grilled meat.  Think of it as Argentina's pesto sauce.  The traditional recipe is just parsley but you can add cilantro, oregano, or a mix of fresh herbs.  Get the basic recipe down pat and then experiment.
This marinade is great on pork, chicken, beef and would also work with tuna, halibut or swordfish.  When I make it with pork tenderloin, I cut the tenderloin into steak tip size chunks.  Pork tenderloin can be a little bland and by cutting it into smaller pieces and marinating it, the marinate really penetrates the meat.
It's a simple recipe that pays dividends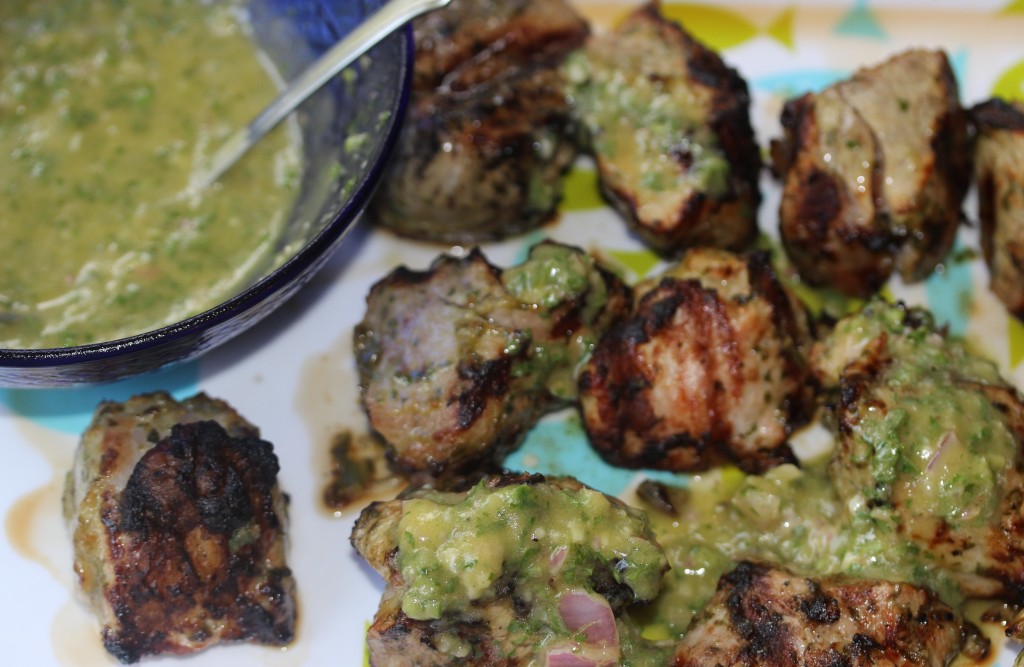 Chimichurri Pork Tenderloin
Prep time:
Cook time:
Total time:
Ingredients
1.5 Pound Pork Tenderloin
1 Cup Flat leaf parsley
1 Jalapeno, seeded
4 Garlic Cloves, sliced in half
1 Shallot, sliced in half
¾ Cup Olive Oil
½ Cup Red Wine Vinegar
Salt & Pepper
Instructions
Cut pork tenderloin into the size of steak tips.
In a food processor, add the parsley thru red wine vinegar. Process until garlic, jalapeno and shallot are chopped. Season to taste with salt & Pepper.
In a ziplock bag add the pork tenderloin and half the Chimuchurri sauce. Marinate Pork Tenderloin up to 1 hour. Reserve the remaining sauce to serve.
Bring pork to room temperature 30 minutes prior to cooking.
Heat a grill to high. Add the pork tips and cook for 5 minutes. Flip over and cook for 4-5 more minutes until cooked through. Cooking time will depend on the grill heat and size of the tenderloins, keep a close eye. Tent the tips and let rest for 5 minutes.
Serve with remaining Chimichurri Sauce.