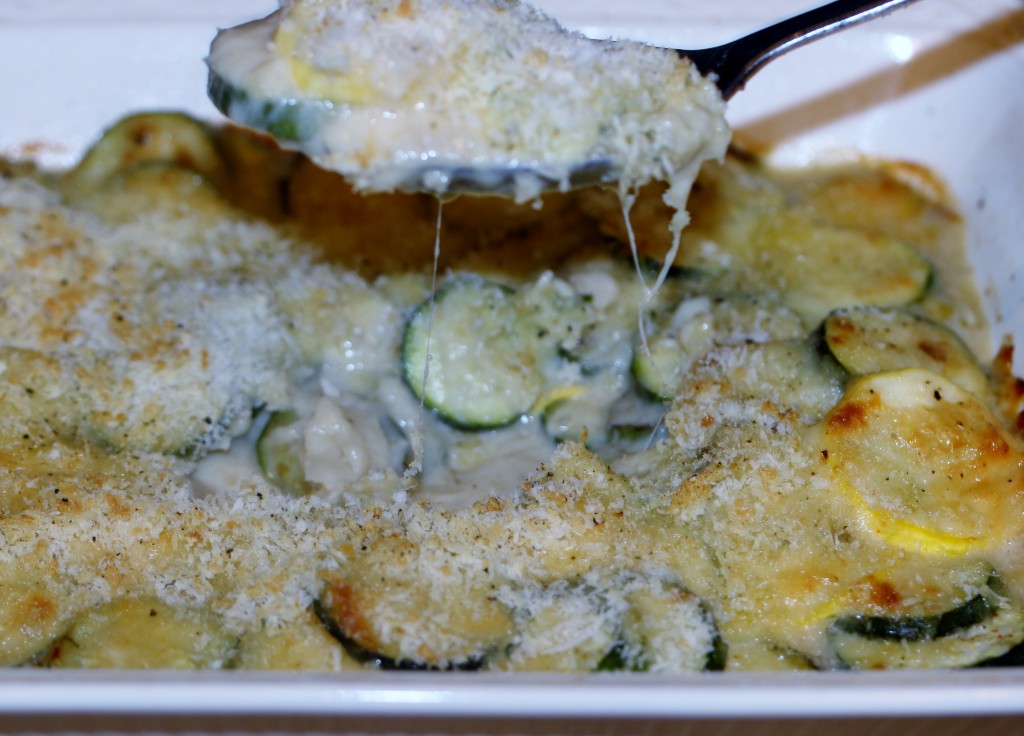 During grill season, it's hard to come up with interesting side dishes.  You start to get sick of pasta salad, potato salad, salad salad, etc.  Who doesn't love a gooey, cheesey dish? This is a great side and a fantastic way for you to get your kids to eat some veggies.  Best thing is that you can make it ahead and then just throw it in the oven to finish.

Zucchini Gratin
Author:
Adapted from Ina Garten
Prep time:
Cook time:
Total time:
Ingredients
3 Zucchini, sliced in rounds
1 Summer Squash, sliced in rounds
1 Onion, diced
1 Tbsp Finely chopped garlic
1 Tbsp Olive oil
2 Tbsp Flour
1 tsp Cayenne Pepper (optional)
1 Cup hot skim milk
3 Tbsp Grated parmesan
1 Cup Grated Gruyere
1½ Cup Panko Bread Crumbs
Instructions
Heat oven to 375
Spray a 8X8 Pyrex Dish with cooking spray
Heat a non-stick skillet and add the olive oil. Add the onions and cook for 8 minutes.
Add the garlic and cook for 1 minute.
Add the zucchini and summer squash. Season with salt and add the cayenne, if using. Cook for 8 minutes.
Add the flour and stir well.
Add the milk and stir well until the milk thickens. Add the parmesan cheese and pour the squash mixture into the pyrex dish.
Put the Gruyere on top and then the panko.
Bake for 20-25 minutes until the gratin is bubbling and the bread crumbs turn golden.
Can be made ahead and stored in the refrigerator. Bring to room temperature before cooking if making ahead.