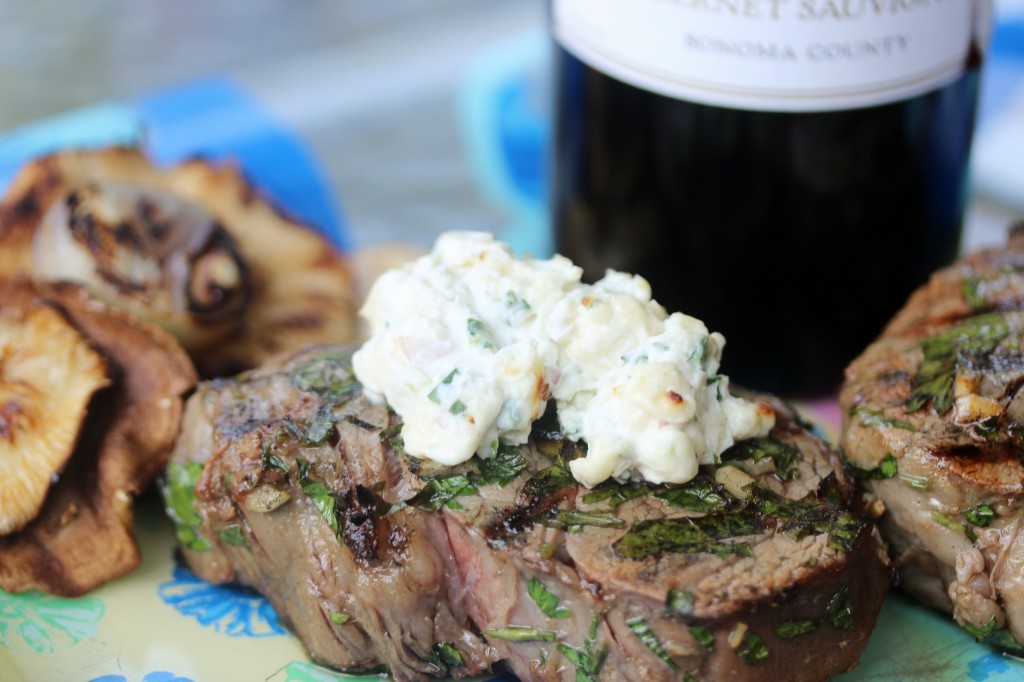 Blue Cheese + Medium Rare Filet Mignon + Red Wine = Heaven?  Yes, in this case it does.  This blue cheese topping is fantastic.  It's super quick and easy to make and just takes a nice grilled steak to the next level.  It's also a great topping for burgers or crackers.

Grilled Steaks with Blue Cheese & Chiles
Prep time:
Cook time:
Total time:
Ingredients
1½ Tbsp Olive Oil
3 Tsp minced parsley
2 Garlic cloves, minced
6 6 oz filet mignon
2 Oz cream cheese at room temperature
¼ cup finely crumbled blue cheese
2 Tbsp finely chopped jalapeno
1 Tbsp finely chopped shallot
1 tsp white wine vinegar
Instructions
Combine oil, 2 tsp parsley and garlic. Salt and pepper the steaks generously. Add steaks and oil mixture to a Ziploc back and marinate at least 30 minutes, up to 1 day.
Mix cream cheese, remaining parsley, blue cheese, shallots, jalapeno and vinegar until it forms a paste. Salt & Pepper to taste.
Heat grill to high. When grill is at 500, add the steaks. Cook for 5 minutes, turn over and add a dollop of blue cheese mixture to each steak. Cook for 5 minutes more until it reaches 130 degrees.