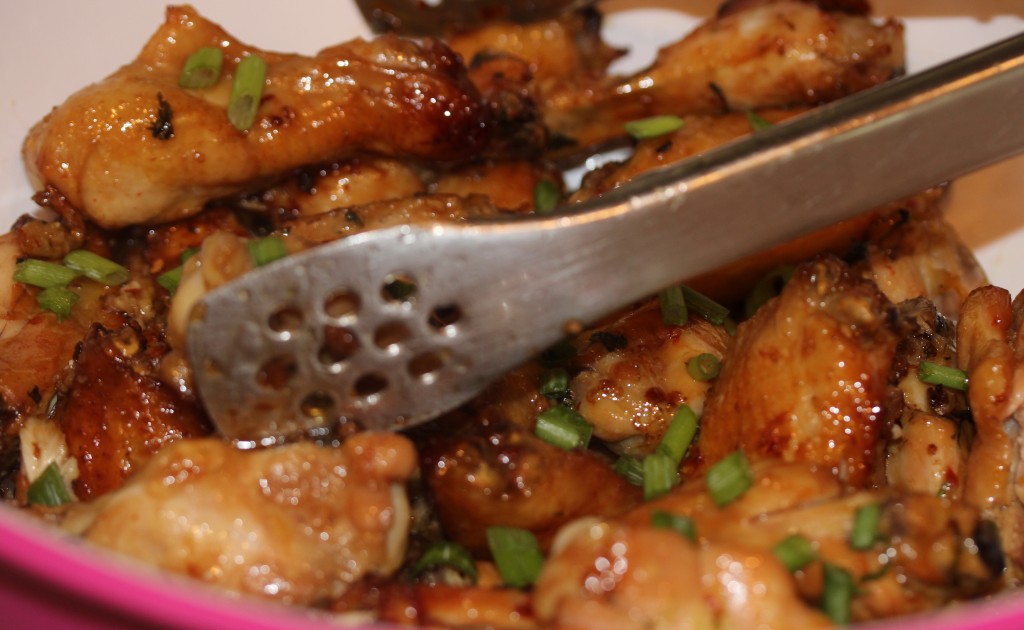 Wings are a crowd pleaser.  Whether you are throwing a cookout or a Football party, bring out a big batch of tasty wings and you will be left with any empty bowl, STAT.  This recipe is one of my favorites, from Bon Appetit at Epicurious.  They can be made ahead, so they are perfect for a party.  You can make the glaze and marinate the wings ahead, then just cook them right before it's time to serve.  Sometimes when I am having a big party, I will make a huge batch and cook them in a disposable pan so that when they are done, I don't even have a pan to clean up!
Make sure you get the glaze really thick and make sure you cook the wings until they are golden brown.  Enjoy!

Sweet Chili Asian Wings
Prep time:
Cook time:
Total time:
Ingredients
2 pounds chicken wings
¼ cup peanut oil
3 tablespoons finely chopped fresh cilantro
3 tablespoons soy sauce
2½ tablespoons minced garlic
2 tablespoons minced ginger
1 teaspoon dried crushed red pepper
1 cup rice vinegar
¾ cup sugar
½ cup water
1 tablespoon chili-garlic sauce
2-3 Scallions, sliced fine
Instructions
Place the wings, oil, cilantro, soy sauce, 2 Tbsp garlic, ginger and ½ tsp crushed red pepper in a large ziplock bag. Marinate for at least 4 hours and up to 1 day.
Make the chili glaze: Put the vinegar, sugar, water, ½ tsp garlic, ½ tsp crushed red pepper and chili garlic sauce in a small sauce pan. Cook on low simmer until it forms a thick glaze, up to 30 minutes. Can be made ahead up to 1 day.
Turn oven to 400. Cover a cookie sheet with tin foil and place wings and marinade on cookie sheet. Bake for 40-45 minutes until golden brown, turning once.
Remove wings, add to the serving bowl, pour the chili glaze on top, mix well. Garnish with scallions.