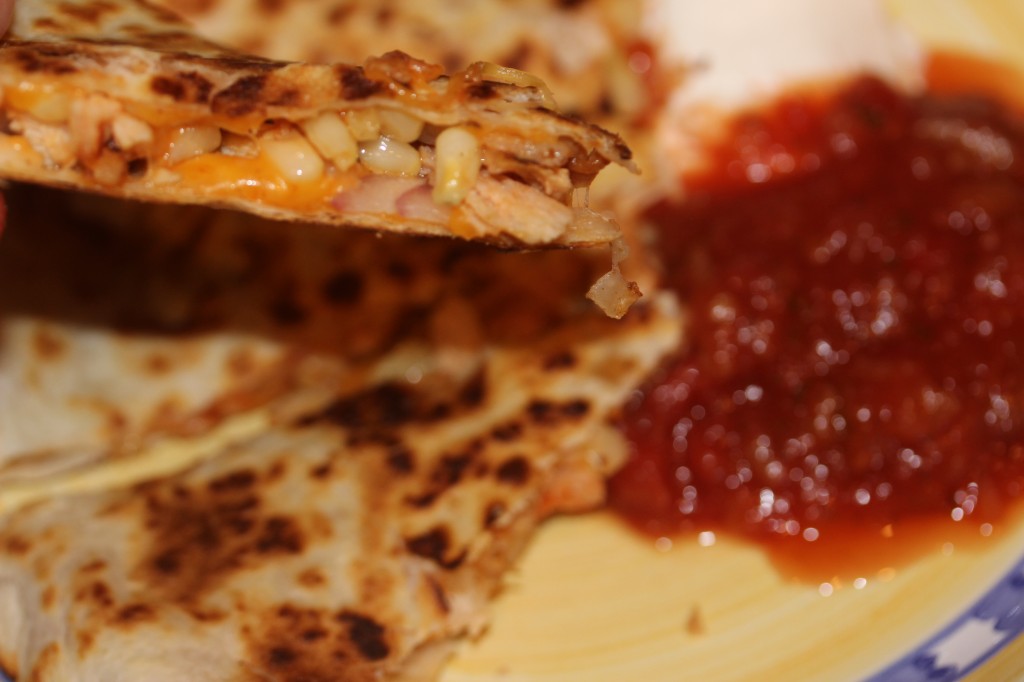 BBQ Chicken + Melted Cheese + Tortillas = Deliciousness

This is a great weeknight dish.  Everyone will love it and it's so quick and easy.  There are a lot of ways you can be creative with this too.  You can add some black beans, also when I have leftover pulled pork or smoked brisket, I will  make quesadillas with that.  It's the same process, cheese on bottom and top to hold it together and add whatever else you like (or have on hand) to the middle.  Be creative!

BBQ Chicken Quesadillas
Prep time:
Cook time:
Total time:
Ingredients
8 Tortillas
Bag of Shredded Cheddar cheese (jack/mexican works)
Thinly sliced red onion
1 Cup of Corn (optional)
Instructions
Cut BBQ chicken into bite size pieces.
Heat a non-stick pan to high. Spray with cooking spray.
Layer a tortilla, sprinkle with cheese, top with chicken pieces, brush chicken with a little extra BBQ sauce, if using corn add some corn, then top with another sprinkle of cheese and top with tortilla. Lower heat to medium.
Cook tortilla for 4-5 minute until getting brown on the bottom and the cheese starts to melt. Flip and cook for another 4-5 minutes until done. If making in more than once batch, put the quesadilla on a cookie sheet in keep warm in the oven at 300 degrees until remaining quesadillas are finished.
Let quesadilla sit for 3 minutes, then cut into triangles. Serve with your favorite toppings, such as sour cream & salsa.