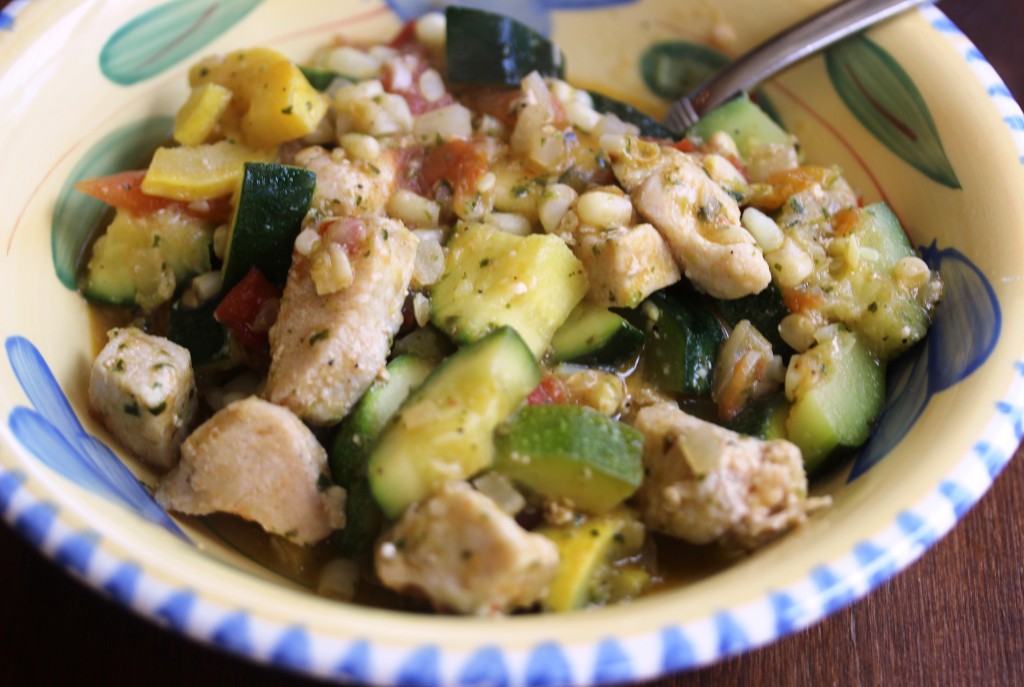 Here is my newest favorite lunch obsession.  I make a batch and eat it for lunch for a few days.  It's soooooooooooo yummy and also low calorie and healthy, but honestly do you care if it's healthy if it doesn't taste good?  I sure as hell don't!
This is an accident recipe, I will admit.  A true succotash is usually corn and lima beans.  I am not really a lima bean girl.  Anyhoo, I made this last summer by accident.  I usually like to do a saute of zucchini, onions & summer squash when the squash is out at my local Sunnycrest farm.  Then one night I was making this and I had 2 ears of leftover cooked corn on the cob in the fridge and I thought, hmm, why don't I add the corn to the saute?  Then I thought it needed some color and I had a big pile of tomatoes, so I added tomatoes and then I thought maybe I would add some pesto……….it went on and on.  So this started as an accidental side dish.  Then recently I thought, hmmm, if I add chicken to it, it would be a one plate lunch!  Such an exciting story, isn't it?  LOL.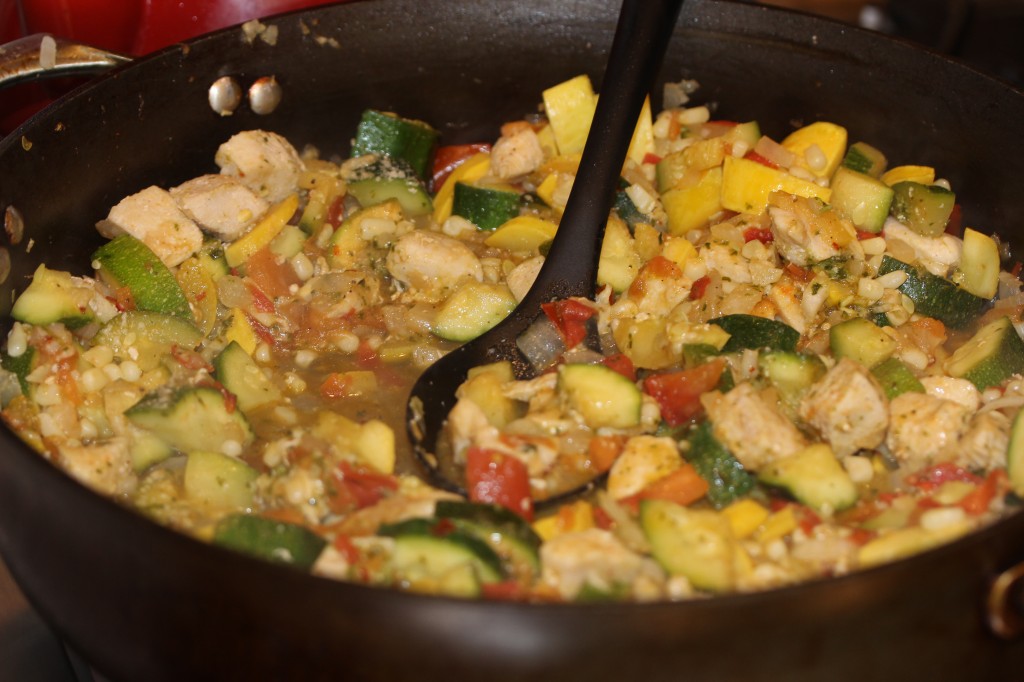 Zucchini Succotash with Chicken & Pesto
Prep time:
Cook time:
Total time:
Ingredients
2 Zucchini, large chop
1 Summer Squash, large chop
1 Onion, diced
2 Tbsp. garlic, finely chopped
1 Cup Corn
2 Tbsp. Olive Oil
2 Tomatoes, chopped fine
2 Boneless Chicken Breast, chopped into bite size pieces.
1 Tbsp. Pesto
2 Tsp. Crushed Red Pepper (optional)
1 Tbsp. Grated Parmesan or Romano (Optional)
Instructions
Heat non-stick skillet, add 1 Tbsp. Olive oil.
Add chicken to pan, salt & pepper to taste.
Cook chicken until cooked through, about 8 minutes. Remove chicken from pan, keep warm.
Add remaining 1 Tbsp olive oil to pan. Add onion and crushed red pepper if using. Salt & Pepper to taste. Cook onion for 5 minutes.
Add zucchini, summer squash and garlic, cook for 3 minutes.
Add corn and tomatoes.
Cook for 2 more minutes until everything is coming together. Return chicken to pan and add the pesto.
Serve with a sprinkling of grated cheese if using.