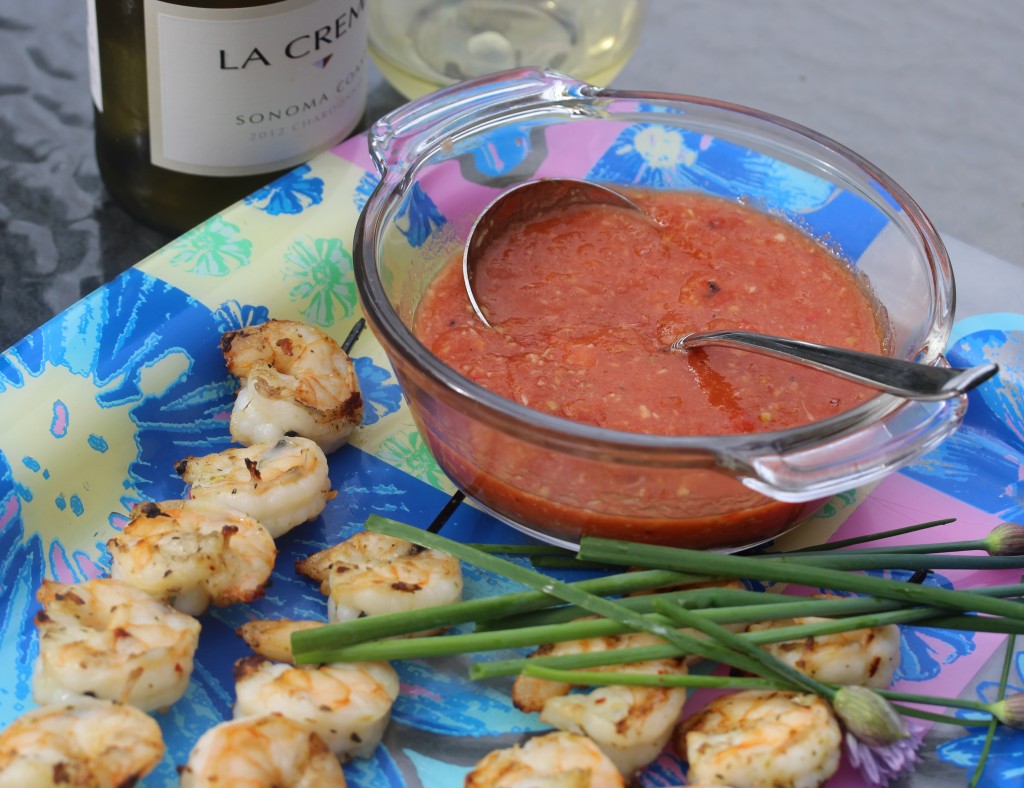 This is one of my favorite summer go to recipes, from my all-time favorite Summer grilling cookbook, Boy Meets Grill.  Have you ever fallen in love with a cookbook so much that the pages are all dirty, the binding breaks and you have sticky notes on every other page of all the recipes you just have to try?  Well, this is that cookbook for me, no lie see below!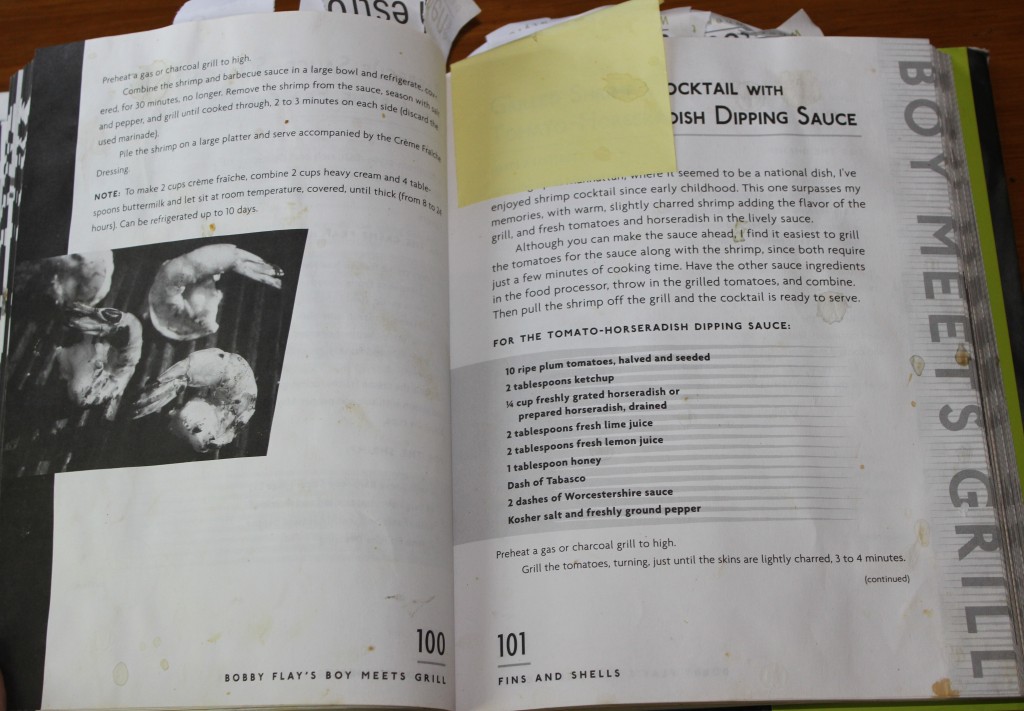 Ok, so back to the recipe. The warm grilled cocktail sauce is delicious and can be used on any type of grilled fish, pork or chicken.  The sauce recipe makes more than you need and freezes really well, so you can enjoy it again later.  Enjoy with a cold glass of white or a margarita.

Grilled Shrimp with Grilled Tomato Cocktail Sauce
Prep time:
Cook time:
Total time:
Ingredients
20 large shrimp, shells removed, deveined
2 tablespoons olive oil
1 tablespoon finely chopped garlic
1 teaspoon finely chopped fresh thyme
2 teaspoon crushed red pepper
Salt and freshly ground pepper
6 plum tomatoes, cut in half, drizzled with olive oil and salt & pepper
2 tablespoons of prepared ketchup
¼ cup fresh horseradish
2 tablespoon fresh lime juice
2 tablespoon fresh lemon juice
Dash of hot pepper sauce
2 dashes of Worcestershire sauce
Salt and freshly pepper
Instructions
Put the shrimp, olive oil, garlic, thyme, red pepper and salt and pepper in a ziplock bag. Seel bag and shake. Marinate shrimp at least 1 hour, up to 4 hours.
In a blender, add ketchup thru salt and pepper.
Heat grill. Place shrimp on skewers or, you can use a grill pan.
Grill shrimp and tomatoes until both are cooked thru.
Put tomatoes in blender with the other ingredients, and mix well. Taste for seasoning. Note, you will have extra sauce and this can be frozen for up to 2 months.
Serve grilled shrimp with the cocktail sauce.