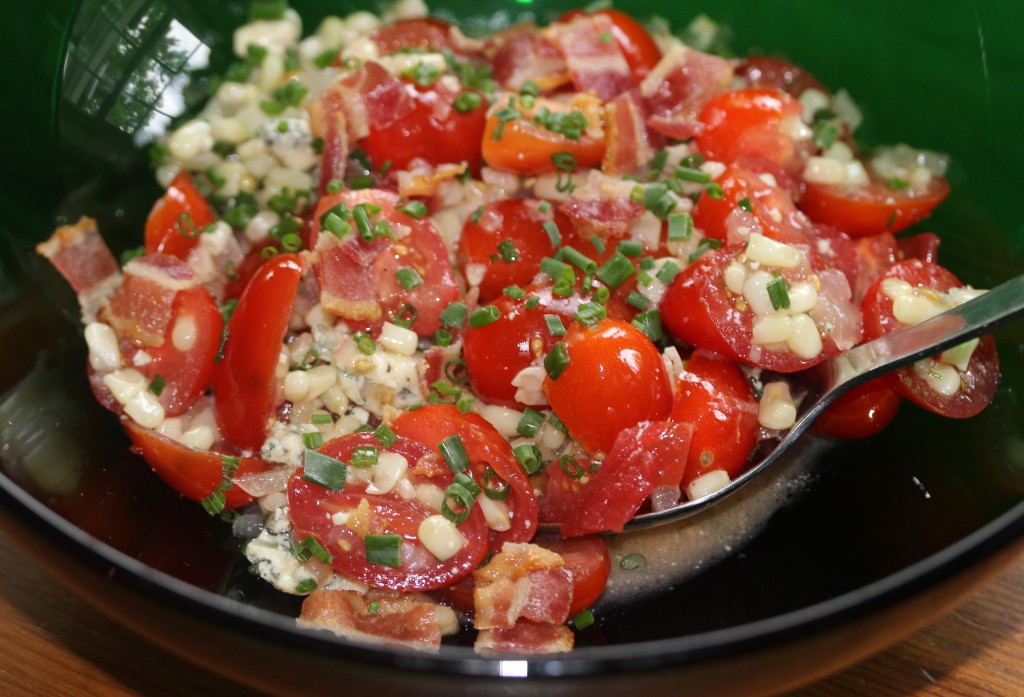 I <3 this salad!  Corn, tomatoes, blue cheese, bacon?  Hello!  It's a great side dish for the summer grilling season.  Sometimes I like to add avocado too.  Super quick and easy, this ia a must make!

Tomato Corn Salad
Prep time:
Cook time:
Total time:
Ingredients
2 Cups Corn
2 Cups Grape or Cherry Tomatoes, sliced in half
2 Strips of Bacon
½ Medium onion, chopped
1 Tbsp Garlic
1 Tbsp Olive Oil
2 Tbsp Chives, chopped
2 Tbsp Crumbled Blue Cheese
Instructions
Heat saute pan. Add bacon and cook until crisp. Remove bacon and chop.
Add the olive oil to the bacon fat, return the heat to medium. Add onions to pan and cook for 3 minutes.
Add garlic and cook for 1 minute.
Add corn and cook for 3 minutes. Cool corn/onion mixture to room temperature.
In a bowl, add the tomatoes, corn mixture, chives, blue cheese. Add 2 Tbsp vinaigrette. Mix well and season. Add more vinaigrette if necessary. Be careful not to overdress. Sprinkle bacon on top.