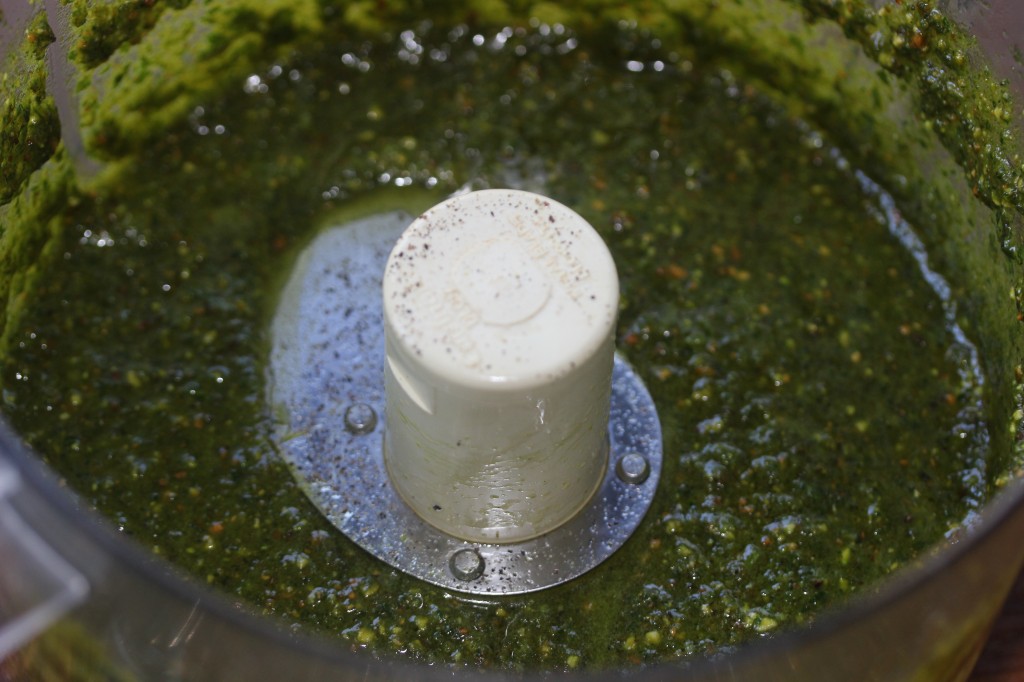 I have mentioned many times how much I love pasta.  Pesto is just another excuse to eat pasta (not that I need to work hard to find an excuse to eat pasta!~).  Once you get the hang of making pesto, you can easily create your own recipe anytime.  The basic premise is herbs, a little garlic, some type of toasted nuts, olive oil and a little cheese.  I have also found that a tiny drizzle (I do mean tiny!) of very good sherry vinegar adds a nice touch.
So the pesto everyone thinks of is the classic combination of basil, with pine nuts, but there are so many other combos!  I make a cilantro/mint pesto that uses cilantro and mint instead of basil (Duh!) and pecans instead of pine nuts.  Being a great fan of pistachios, I looked for an idea on a recipe and came accross this one at Lydia Bastianich's site, Pistachio Pesto.  I have posted the recipe here although I did change it a tad.  I used the shelled roasted/salted pistachios (love that salty taste!) and added a touch of sherry vinegar.  I most likely upped the cheese factor too.  The point is to take the recipe as a guide and then put your own spin on it!
Pesto is not just for pasta.  If you use my tip and freeze it first in ice cube trays, then pop them out and keep in a ziplock in the freezer (thanks Elizabeth!), you can easily grab a cube or 2 anytime to add flavor to all kinds of dishes.  Some of my favorite ways to use it other than pasta:  Put a cube or 2 in your homemade chicken or any other kind of soup.  Saute zucchini, tomatoes, onions, etc. and then add a cube to the sauteed veggies.  Spread pesto onto italian bread to make a great Italian Sandwich.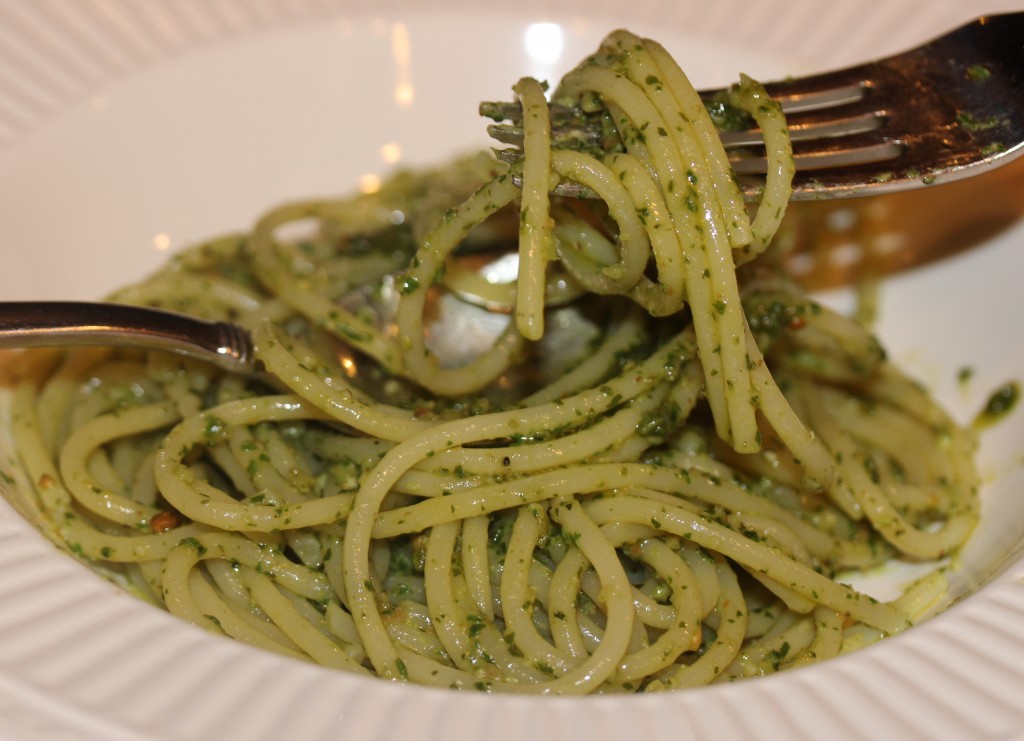 Pistachio Pesto
Ingredients
3 Cups Basil
2 Cups Parsley
1 Cup Pistachios roasted (I use the shelled roasted with salt)
8 cloves of garlic (use a little less if you are not a garlic lover!)
1½ cups olive oil
½ cup (or more if you like!) Grated Romano or Parmesan
1 Tsp Sherry vinegar (optional)
Salt & Pepper
Instructions
Place basil thru garlic into a food processor. Chop ¾ times.
Turning the food processor back on, slowly drizzle the olive oil until the pesto forms together.
Add the cheese and blend. Stop, salt and pepper to taste. Add more cheese/oil, etc. until the flavor is just right for you.
If serving with pasta, reserve 1 cup of pasta water. Mix cooked pasta in a pan with pesto and ½ cup of pasta water. Add more pasta water if neccesary. Serve with another sprinkle of cheese if desired.
Will stay in the refrigerator up to one week.
Freezes up to 2 months. Optional to put pesto into ice cube trays, freeze and then remove the cubed pesto and put in a ziplock bag in the freezer. Each cube is 1 Tbsp+.