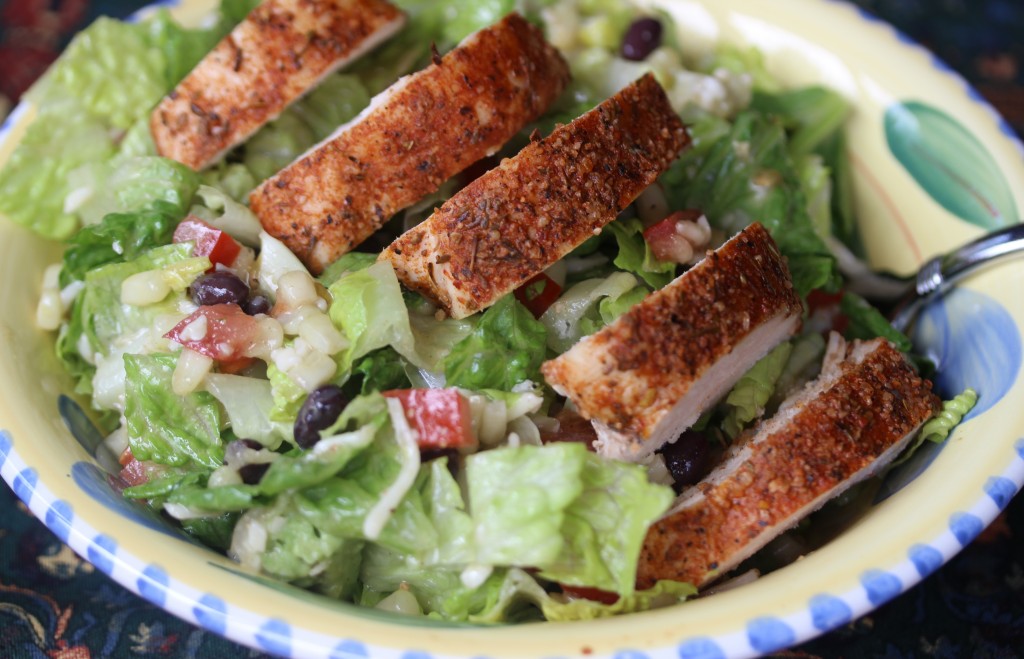 I love salads.  This is one of my favorites and I make it a lot in the summer.  You can work with whatever you have on hand.  If I have left over corn on the cob in the summer, I will slice it off the cob and add it to salads.  I also like to have some black beans in as well.  You can add any vegetables you like, use up what's in that produce drawer!
You want to make sure you season the chicken really well so that each bite has some of the Cajun seasoning on it.   Enjoy!

Southwest Chicken Salad
Prep time:
Cook time:
Total time:
Ingredients
4 Boneless Chicken Breast
3 Tbsp. Emeril's Essence
1-2 Heads Romaine Lettuce chopped fine
2 Tomatoes, chopped fine
½ Onion, chopped fine
1 Package frozen shoe peg corn, or 2 cups corn
1 14 oz. Can Black Beans, drained & rinsed
½ Cup Shredded Monterey Jack Cheese
1 avocado, chopped
Instructions
Heat oven to 375.
Rub chicken all over with Essence seasoning.
Spray a cookie sheet and put the chicken on the pan, and bake in the oven for 20-30 minutes until chicken is at 165.
Take chicken out and allow to rest for 5-10 minutes until it rises to 170.
Meanwhile, place the lettuce thru avocado in a large bowl. Season the salad with salt and pepper and mix well.
Heat a small skillet, add the oil and onions and cook for 1 minute. Add the corn, salt & pepper to taste and cook for 5 minutes, until it is cooked through.
Slice the chicken. You can either slice the chicken, or chop it up and add to the salad.
Dress the salad with some of the honey mustard. Be careful not to add to much. Mix the salad well, taste for seasoning and add more dressing if needed.